Citadel is a company who has been around for about 40 years at this point. They're the product line for Games Workshop, the company who makes games such as Warhammer 40K and Age of Sigmar, and they also make the Citadel Skirmish Figure Case – the reason you're here 🙂
So, let's dive in with this review!
Disclosure: Some of the links below are affiliate links, meaning, at no additional cost to you, I will earn a commission if you click through and make a purchase. The commission earned helps maintain this site.
Citadel Skirmish Figure Case Review
The Citadel Skirmish Figure Case is the smallest miniature case offered by Games Workshop. The other cases only get bigger.
However, despite being on the smaller side, you could definitely get over 60 infantry models in the case. It's very deceptive.
Let me break it down.
Foam Trays
There's two layers of foam. The top layer is ideal for typical infantry models. With models on 25 or 32mm, you can get between 6-7 models per-channel. So, if you went all infantry on the top layer then you could get about 42 models in there.
The bottom layer is great for the slightly bulkier models, like Tanks, Dreadnoughts, etc. You'd be surprised what will fit in that bottom tray.
You can even remove the bottom tray and store things like rulebooks underneath it in the case.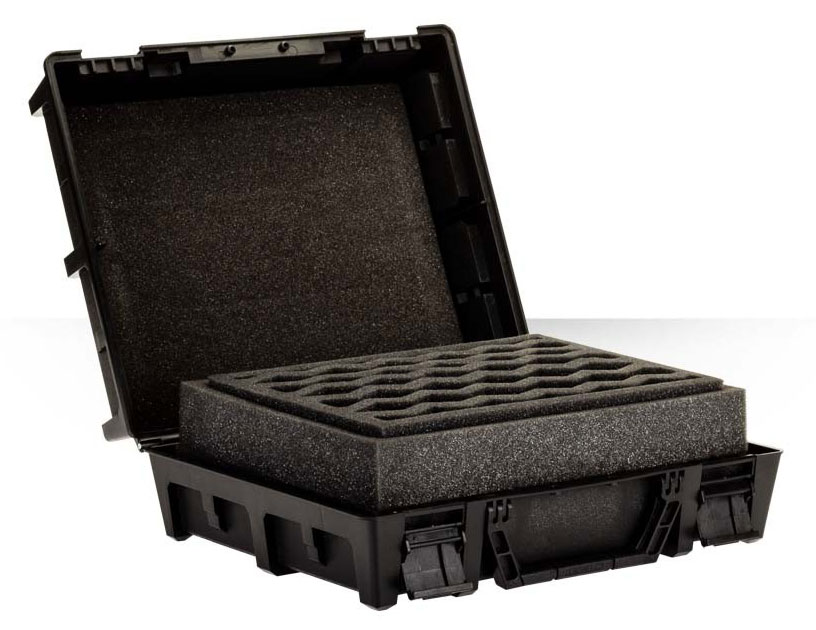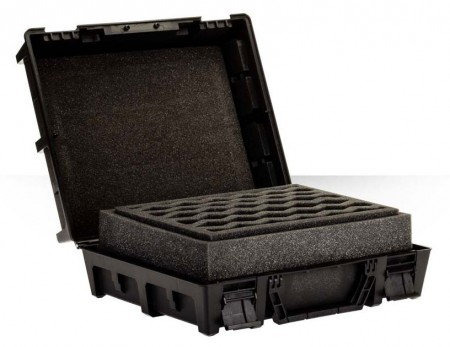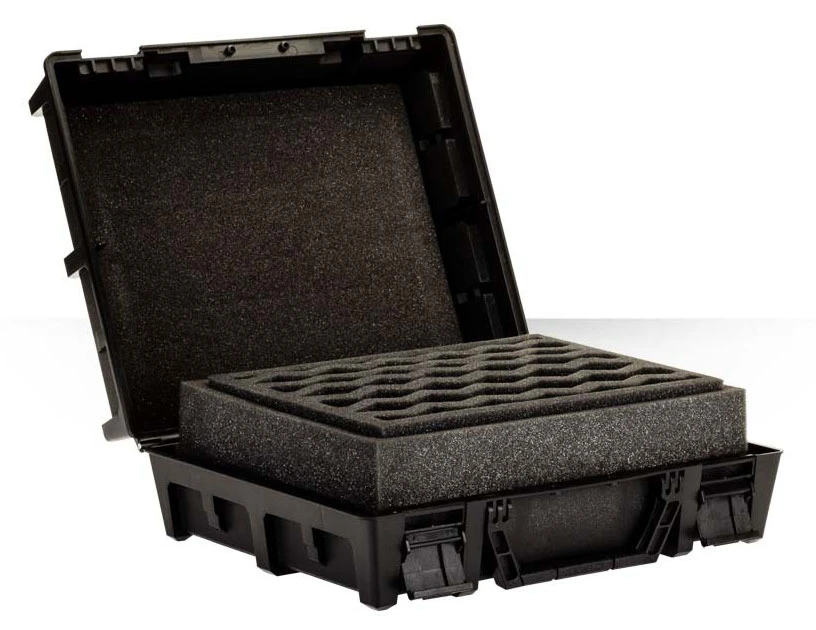 From Games Workshop's site:
The Citadel Figure Cases are the perfect way to transport and protect your Citadel miniatures. Containing one set of our revolutionary channel foam, the Citadel Skirmish Figure Case has been specially designed to fit almost any model that we make, any shape and size, quickly and easily without the chore of cutting and shaping to fit.
The channel foam is a sawtooth design. You place your models in the channels and it compresses the foam against the other channels. This creates a friction to hold everything in place.
We know that you want the best protection for your miniatures – the foam inside the case is slightly larger than the case itself, and will compress around the figures when closed, ensuring a minimum of movement for any miniature.
It's a pretty simple but impressive concept with the channel foam.
The other cool thing with it is that you don't have to try to fit a model into a square hole. Let's face it, some models have pokey-parts, and square holes don't always work as planned. I can't tell you how many times I've had daggers (literally) stabbed into my foam and the model stuck.
So, with a design like this, the foam moves (expands and contracts) as needed. In turn, it's easier to store some of those awkward models you might otherwise have a hard time with in a traditional foam tray. Also, it's just a whole lot easier to remove them from the tray as well.
The Case
The case itself is a hard plastic – like a shell. Between the plastic case, and the compressed foam, there's no reason anything you transport in the Citadel Skirmish Figure Case should get damaged.
It also has nylon catches, so if you should drop it the catches won't break. To ensure the robustness of the stress points, a metal hinge runs along the back, strengthening and adding a reassuring weightiness.
And, as noted on their site, it's drop proof too. You can't beat that!
Also, the dimensions of the case is 16.3 x 10.6 x 5.1 inches, to give you an idea of the overall size.
Videos
Here's a short video that Games Workshop did showing off all their cases, including the Citadel Skirmish Figure Case. It will give you a good idea exactly how the case stores models.
You can also see how easy it is to store the models and remove them for gaming. It really walks you through it all.
Now, if you're a Shadespire player then check out this video. This video shows how you can store all your Shadespire miniatures in the case.
Citadel Cases
Here's a quick chart to breakdown the 3 major cases from Citadel if you wanted to compare.
Conclusion
Despite being on the smaller end of things for cases, the Citadel Skirmish Figure Case is still a great buy for the price. You could fit a 1,500pt army in there pretty easily; of course that depends on what exactly is in that 1,500pt army. If you're infantry heavy with a few tanks – no problem!
The hard case and channel foam are really the selling points. Not to mention this setup will run you a whole lot less than going with Battle Foam.
All-in-all, this is a great buy and I highly recommend it if you're in the market for a miniature case.
Now, if you're in the market for a larger case, then check out the Battle Figure Case (mid-sized), or have a look at the Crusade Figure Case (largest case). Both are the same great quality as the Skirmish case, only larger.
Citadel Skirmish Figure Case Review
Price -

8/10

Storage Capability -

9/10

Quality -

9/10

Ease of Use -

9/10
Summary
The Citadel Skirmish Figure Case is extremely affordable and can hold a lot more than you'd think for the size. Well worth the buy.