If you're looking at the Citadel Crusade Figure Case then you're in need of some serious storage. Good thing too because this case is pretty massive.
All of the Citadel cases are nearly identical except for the size, but let's go over the Crusade Figure Case and see what it offers.
Disclosure: Some of the links below are affiliate links, meaning, at no additional cost to you, I will earn a commission if you click through and make a purchase. The commission earned helps maintain this site.
Crusade Figure Case
The Crusade Figure Case is the largest one offered by Games Workshop.
The size of the case is 18 x 11.5 x 8.5 inches, so it's a pretty big case.
The case is also made of a hard plastic, so it's very resistant to damage. The catches on it are made of nylon, so if you drop the case then the catches won't snap off.
Also, there's a metal hinge that runs the length of the back of the case to reinforce and strengthen that stress point.
Foam Trays
Of course, the Crusade Figure Case has foam trays that come with it. These are the special channel trays that will fit almost any type of model.
The Citadel Figure Cases are the perfect way to transport and protect your Citadel miniatures. Containing one set of our revolutionary channel foam, the Citadel Crusade Figure Case has been specially designed to fit almost any model that we make, any shape and size, quickly and easily without the chore of cutting and shaping to fit.

Games Workshop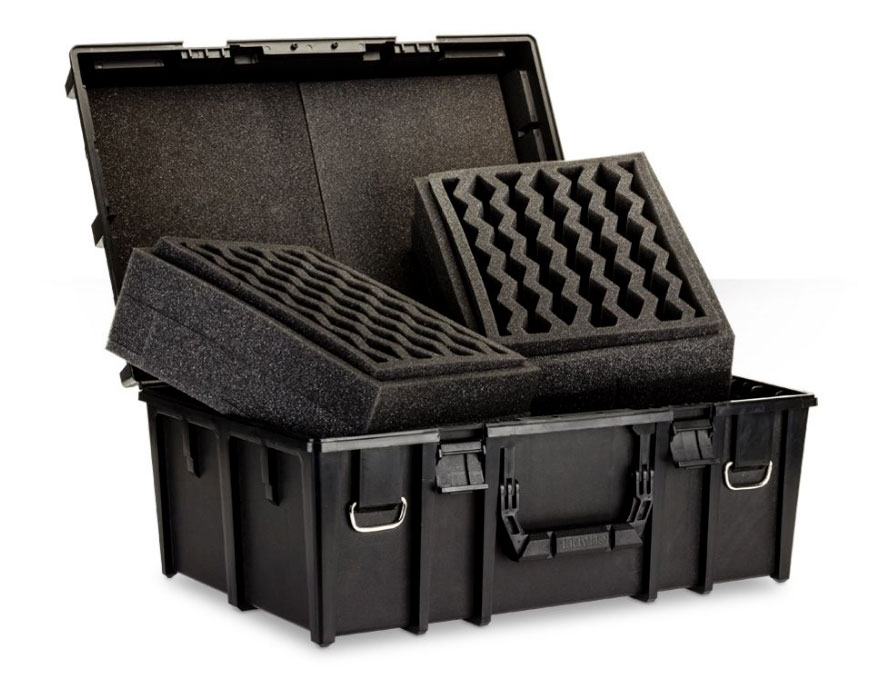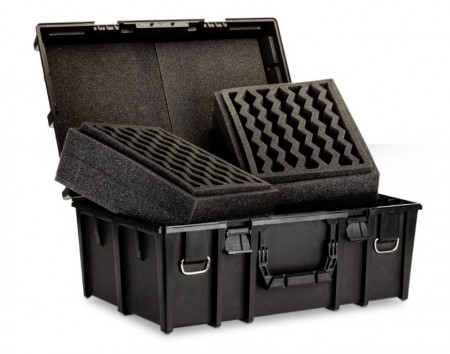 You can see the foam in the shot above. The zig-zag pattern allows the foam to grab your miniatures and accommodate various sizes and shapes.
Also, notice that it appears to be a tray inside a tray, and that's because it is. The top layer is ideal for infantry sized miniatures. You can then pull that tray out and place other models underneath it in that tray. So, you're doubling up the storage effectively.
We know that you want the best protection for your miniatures – the foam inside the case is slightly larger than the case itself, and will compress around the figures when closed, ensuring a minimum of movement for any miniature.

Games Workshop
So, once you put your models in the channel foam, and the foam into the case, it creates a small pressure fit to keep everything in place.
How Much Can it Store?
There's 4 of the trays inside the case, with each doubling up, effectively giving you 8 trays.
You can store over 180 infantry sized models, a few tanks, and even a Knight, in this case. It's seriously huge. Hell, if you want all infantry you should be able to get over 320 models in there. Watch that video above to see exactly what you can do with it; it's impressive.
Quick Reference
Here's a simple chart showing a basic comparison of the different cases.
Conclusion
The Crusade Figure Case is an all-around good case. The price is really reasonable considering you're getting a rugged case with all the foam trays you'll need for a good sized army. For some people this may be the only case they need. So, with that in mind, the price isn't bad at all.
If you need to carry around a 3,000 point Warhammer 40K army, and have some extra space, then this is a great case. The case is so well built that it may outlive you.
Now, if you're after something smaller, but with the same quality and setup, then you can check out the Battle Figure Case (mid-sized), or go even smaller with the Skirmish Figure Case. Basically, they're the same thing only smaller.
Citadal Crusade Figure Case
Price -

8/10

Storage Capability -

10/10

Quality -

10/10

Ease of Use -

9/10
Summary
The largest case Citadel offers has plenty of room and a solid construction.