There's no shortage of cases from Citadel to choose from. Right in the middle, in terms of cost and storage, is the Citadel Battle Figure Case.
How does this case hold up and compare? Let's look!
Disclosure: Some of the links below are affiliate links, meaning, at no additional cost to you, I will earn a commission if you click through and make a purchase. The commission earned helps maintain this site.
Battle Figure Case
So, the Battle Figure Case is the middle child of Games Workshop. It's significantly larger than the Skirmish case, but a bit smaller than the Crusade case.
The size of the case is 10 x 8 x 10 inches, so it's a pretty big case, but still a fair bit smaller than the Crusade. It's almost identical to the Skirmish in terms of outer dimensions but it's much thicker.
The case is made of a hard plastic, so you aren't going to get dings and dents in it and your miniatures are kept safe. There's nothing wrong with soft cases, I own a few myself, but having a hard exterior case is never a bad thing in my opinion.
The catches on it are made of nylon, so if you drop the case then the catches won't snap off. It might seem like a minor thing but it's a pretty significant upgrade honestly.
Along with that, there's a metal hinge that runs along the back of the case. This strengthens that potentially weak point on the case. So, again, if you drop the case then the hinge area isn't going to blow out on you.
All in all, this is a very sturdy and rugged case that will last you a damn long time. In fact, this case will far outlive any owner I should think.
Foam Trays
Packed inside the Battle Figure Case are the foam trays. The trays are the typical channel foam that's become the staple of Citadel cases for the past few years.
The Citadel Figure Cases are the perfect way to transport and protect your Citadel miniatures. Containing one set of our revolutionary channel foam, the Citadel Crusade Figure Case has been specially designed to fit almost any model that we make, any shape and size, quickly and easily without the chore of cutting and shaping to fit.

Games Workshop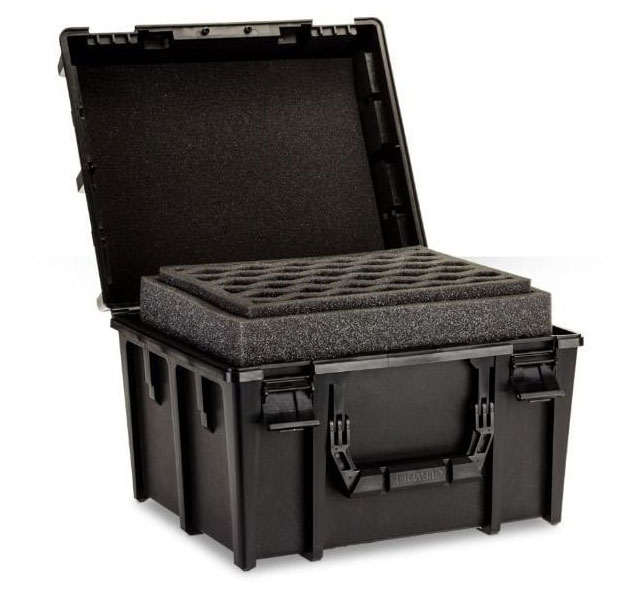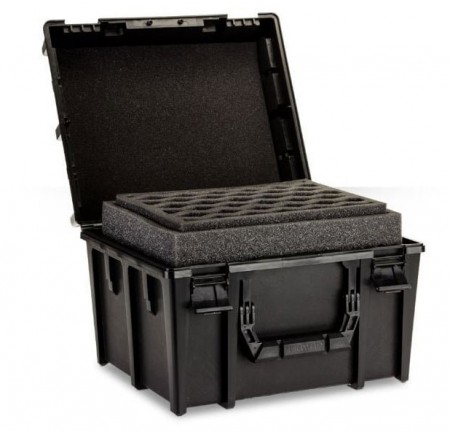 See how the foam has a zig-zag pattern? That's so when you put your miniatures in there, the foam will close around the models and secure them in place.
Also, see what appears to be a tray inside a tray? It is. That top layer is great for the infantry sized models, your rank and file. You can then pull that tray up to reveal a bottom tray where you can store larger miniatures. The stacking element lets you store a bit more in here than expected.
We know that you want the best protection for your miniatures – the foam inside the case is slightly larger than the case itself, and will compress around the figures when closed, ensuring a minimum of movement for any miniature.

Games Workshop
Once you close the case you will squish everything together and keep the miniatures from moving around.
How Much Can it Store?
The Battle Figure Case comes with 2 foam trays, and each of those foam trays is 2 stacked. So, in essence the case comes with 4 trays total.
Going with infantry, you should be able to fit around 42 models per-top tray, so 84 total. Then you factor in the lower trays and you can add in some Dreadnoughts, Rhinos, or even some larger infantry. If you opted all infantry, then you could push that number to around 160+ models.
Overall, this case should accommodate most armies for Warhammer 40K pretty easily.
Case Comparison
Just a quick chart to show a simple breakdown of the different cases from Citadel.
Conclusion
Much like the other Citadel cases, the Battle Figure Case is a well-made case that's suited for any 40K player. I feel that the protective nature of the case is its best selling feature. Having a hard plastic exterior is a feature you'll love the first time the case is knocked off a table 😉
The size of the case should work for many armies around 2,000 points, maybe a bit more. Naturally, that will depend on the particular army you're playing.
So, if you need a solid case that's not going to break the bank to buy then definitely consider the Battle Figure Case.
Price -

9/10

Storage Capacity -

10/10

Quality -

10/10

Ease of Use -

9/10
Summary
The middle case from Citadel still offers plenty of storage at a fair price. It's a solid case that will last for years.