I don't know about you, but my painting desk is a complete disaster. I get it organized and then as soon as I start the next project it just blows up. That's why I've started looking for a miniature paint rack; so I can finally get myself organized.
I thought since I was doing the research on some ways to store my paints that I'd share that information with you all.
I can say this, there's no shortage of paint organizing systems out there. With the advent of laser cutting wood, it seems everyone is out there making their own miniature paint rack to sell. However, I've narrowed the list down to the ones that seem to be of good quality, and are also affordable.
Miniature Paint Rack & Storage
As usual, the list will be alphabetical.
Also, if I missed an option for a miniature paint rack in the list then please let me know in the comments.
Disclosure: Some of the links below are affiliate links, meaning, at no additional cost to you, I will earn a commission if you click through and make a purchase. The commission earned helps maintain this site.
Citadel
There's a few options from Citadel, though probably not exactly what you're after, as they aren't really a miniature paint rack. However, it's worth sharing.
Paint Box
The Paint Box is new from Citadel and it's just what it sounds like – a box to store your paints.
The Paint Box has hex shaped holders to put the pots of paint into, and also has storage for more paints. All in all, you can store 70 pots of Citadel paint in the Paint Box.
So, this is a good solution for those who need to pick up their paints and store them a lot instead of someone who has a dedicated hobby space setup.
This is one of the cheapest options that Citadel has, and it's made of a durable plastic, making it a pretty reasonable buy
.
Paint Rack
The Paint Rack is just like the above Paint Box but minus the box. So, you're getting the hex-holders for your paints.
This also comes with legs so you can elevate the Paint Rack at a roughly 45 degree angle, tilting it towards you. It seems odd, but it will help make it more space efficient that way.
Also, there is the option to attach this to the wall if you desired.
The setup is affordable and will hold 42 pots of Citadel paint.
Project Box
The Project Box is an older offering of Citadel's. Though you can no longer buy it on the Games Workshop site, you can find this on Amazon
still.
What the Project Box is, is a small system to store some Citadel paints, have a surface to paint and model on, as well as some additional storage for general use.
The paint rack can store up to 49 Citadel paint pots, which isn't that bad.
Overall a setup like this is aimed at the hobbyist who has to pick up their paints and tools each time. You can pack it all up, store the box (which is approximately 16 x 11 x 4.4 inches in size), and not have to worry about it.
Again, this may not be what everyone is after, but it's worth noting.
The big thing with the Project Box is the price. This is way cheaper than the newer versions that Games Workshop has put out, which you'll see below. Like, it's 25% of the cost of the new ones…
So, if you're looking to save some money, and get a good storage setup, I'd consider buying this one
over the other Citadel options below.
Project Paint Set
While this is similar to the Project Box above, it's only design is for paints. The Project Box is more of a multipurpose thing where this is just for the paints really. This one is a bit more like a miniature paint rack; albeit one that doesn't save a lot of space.
Anyway, the Project Paint Set is a storage box with 48 pots of paint.
Here's what Games Workshop has to say about it:
A one-stop collection of high-quality Citadel paints covering the Base, Shade, and Layer ranges, this is the perfect way to begin a collection of paints to make your miniatures look their best. 48 pots of paint are included in the hard-wearing, durable plastic storage box – the box itself holds 2 racks that each hold 21 paints, with space in the bottom of the box for a further 28. The lid even doubles as a handy tray, making this the perfect gift for the hobbyist in your life.
So, it comes with a fair bit of paint.
In fact, when you do the math out on the paints, you realize you're getting a deal on the paints compared to buying them individually, and you're also getting a paint storage system for them.
This is not a cheap setup. However, it does have all of that paint, so you are actually saving money if you're a fan of Citadel paint.
Overall, not a bad buy
if you're in the market for some paint too.
Ultimate Project Paint Set
As you probably figured, this is an upgrade version of the Project Paint Set.
This set contains 53 pots of paint, 3 brushes, and some Citadel hobby tools.
Of course, this is more expensive than the other paint set, however, it is honestly a good deal when you factor in the paints, brushes, tools, and then the storage container itself.
This isn't for everyone though, and far more geared towards the Games Workshop fan than someone looking for some good paint storage.
So, if you need to seriously loading up on paint, like you're new to the miniature hobby and want to dive right in, then the price is great for everything you get
.
For the rest of you, you'll probably want to keep scrolling to see what else I found.
Etsy
Surprisingly, there's not a lot of people on Etsy making paint racks. In fact, I only found a few that seem reasonable.
Now, there are a few others, but the two below are the ones that jumped out at me. If you want to see the rest of the list then you can check out the search results.
MakerHorde: The Lazy Painter
MakerHorde created a neat lazy Susan style paint organizer. A handful of good reviews on it and the price isn't bad.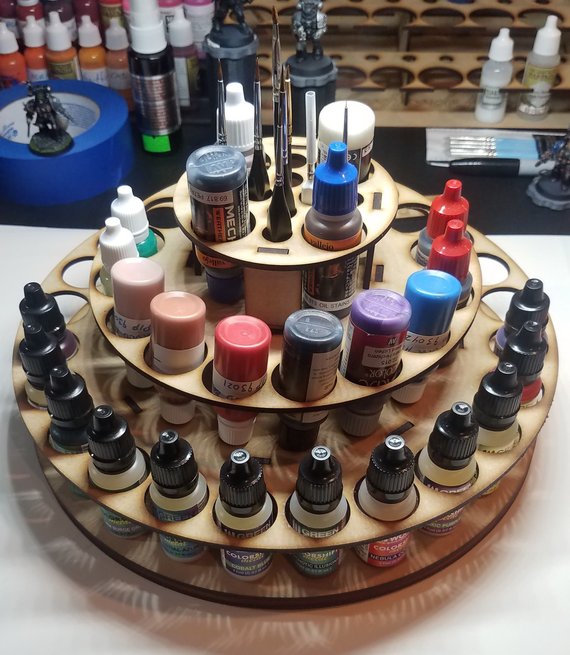 The Lazy Painter will hold 44 paint bottles and some brushes.
The footprint of this is an 11″ diameter.
I have to say, I like the lazy Susan style of this. I feel like it takes up less room than the more traditional style of a linear rack.
This one is a serious consideration for me.
Since writing this article, I now own The Lazy Painter. I also have a more thorough review of it if you're interested.
Trollmanufacturing
This storage setup from Trollmanufacturing is a box that you can store everything in and put away, much like the Citadel ones above.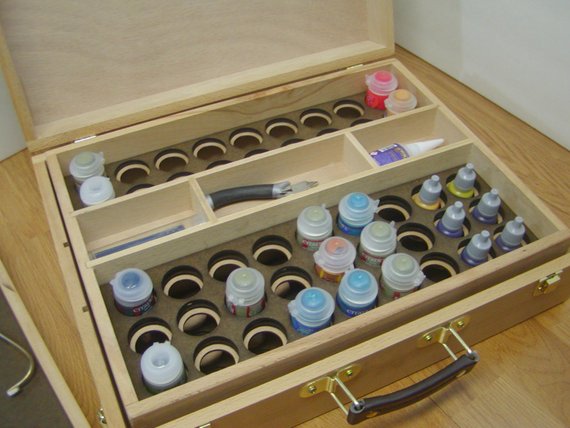 Actually, this one is different in that it's an insert for a box.
So yeah, a bit different than normal, but maybe that's what you're after.
WarpedMindGames
WarpedMindGames has a well reviewed, and reasonably priced, linear MDF paint rack that worth a look.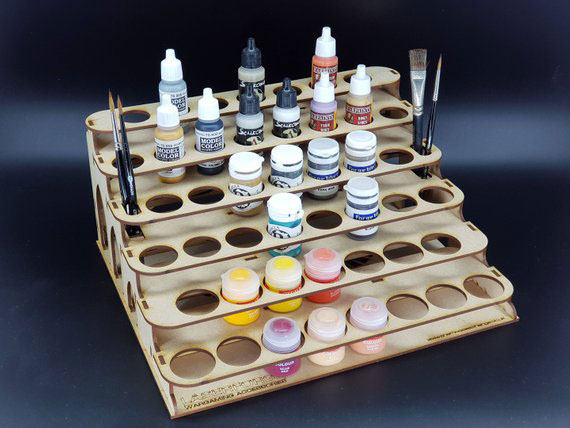 This one holds 45-51 paint pots depending on what exactly you're storing. There's a few setup options available when you order, hence the variability.
Seems like a solid choice and the price is pretty on par with all the other systems I've found.
GameCraft
I found a few options from GameCraft on Amazon that were worth sharing.
Painting Station – 26mm Vallejo
As the title suggests, this one is aimed at storing Vallejo dropper bottles. Being 26mm, it should work for most major companies who do dropper bottles for paint as well.
Here's the full description from Amazon:
Painting Station holds 20 of the Vallejo and Army Painter style dropper bottles, one small brush rinse water cup and 28 brushes, files, etc.

Assembled unit measures 16″ wide, 11″ deep and 3 1/2″ tall. This is perfect size for putting away on a bookshelf, under your bed or in a cupboard when you are not using it. Perfect for people that want to work at their desk, on the dining room table, the coffee table while watching TV, or if you just want to keep your workbench clutter free while switching between painting jobs. Also great for people that have small children and want to put their paints away to keep their little hands from getting into them.

Made from 1/8″ MDF. Assembly and painting (if desired) is required.
Now, for the price that's a pretty good deal. It covers you with pretty much all your painting needs. It even has handles, so this is great for those who need a more portable solution for their paint storage.
All-in-all, I feel this is a great option and you can snag it off Amazon
too.

Paint Rack – 26mm Vallejo / Army Painter
If you aren't after a painting station, then you can just buy a simple paint rack that will hold your dropper bottles.
This one will hold more than the painting station, holding 42 bottles.
The rack itself measures 12″ x 8″ x 5″. So, it won't take up a ton of space on your desk overall.
You will have to put this one together yourself.
This is a well review option from GameCraft and at a pretty affordable price as well.
Paint Rack – 34mm GW / Citadel
Now we get to the Citadel sized storage.
So, this one holds 40 of the Citadel paint pots.
The storage rack is 11.9 x 7.87 x 5.1 inches in size, and like the other miniature paint rack they make, is made of MDF.
However, unlike the Vallejo option above, this one is purely for paint storage. There's no brush holds or anything.
This one is a similar price to the Vallejo one and is also available on Amazon
.
With a fair amount of reviews, and a good overall rating, this seems like a solid choice. Plus, you could fit dropper bottles in here as well if you wanted. This is convenient for people like me who have both Citadel and Vallejo paints.
Hmm…
Vertical Paint Rack
Yet another option from GameCraft is this vertical storage system for dropper bottles, like those from Vallejo and Army Painter.
The cool thing about this type of setup is it's the most space efficient one they've got since it's vertical.
The paint rack is 12″ tall and 11″ wide and 3.5″ deep. You can store 64 bottles in this.
The other thing I really like about this one is you could put your bottles in so you see the bottom, making it really easy to see your color choices.
The price on this is really good as well. It requires some simple assembly, but it's nothing you couldn't do in a few minutes.
Frontier Wargaming
I'll admit, I think this is a sexy setup. I'm a fan of wood products, and this one looks great and has a lot of storage for the size.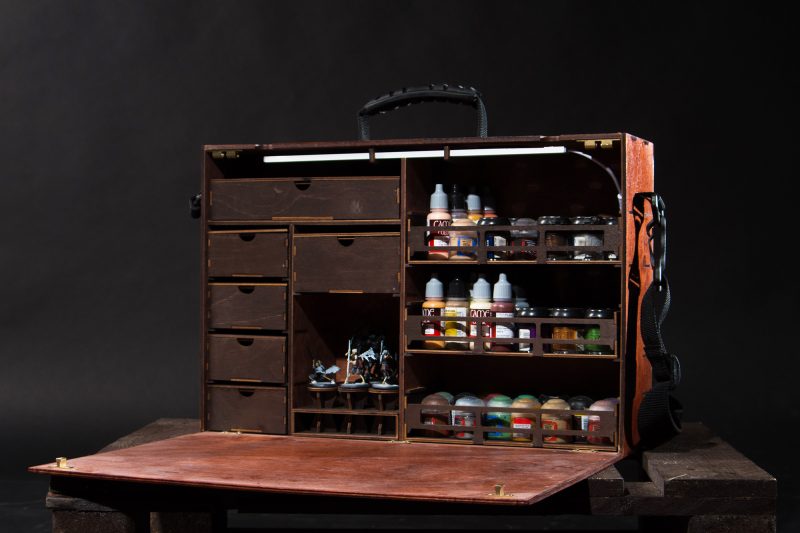 The features of this one include:
Three paint racks that can hold up to 96 Vallejo or 54 Citadel paints
Five bits and supply boxes.
One box for brushes and tools.
A tray with six miniature holders
Removable bright LED lighting.
12V Power adapter.
Adjustable shoulder strap.
Yeah, you can get an LED light on this thing. So, you've got a setup that can be transported and is fully functional as a painting station.
This paint case is expensive compared to the rest of those listed here, but this one is also unlike the others listed here.
I think what you're getting for the money is well worth it.
HobbyZone
I've seen the stuff from these folks over the internet but I didn't know their name previously. A kind commenter here mentioned them by name and I immediately began checking out their stuff.
So, HobbyZone has a completely modular system for creating your own hobby space. It includes paint racks, brush holders, drawers for storage, assorted racks and shelves, and more.
Their module system is great. Design your perfect setup and away you go.
Check out this great video showing their system.
The pricing is also very good. Each individual component is affordable. Sure, if you're building a big desk and buying 15 modules, then it might be pricey. However, if you're just picking up a few modules as you have money, then you'll find it's a cheap way to get going.
Modular system aside, you can also buy more traditional paint racks, organizers, painting tables, and more.
HobbyZone has a big collection of well-priced products that you honestly just need to check out.
Home-it
If you want to step away from the official paint organizers and look at something different, then check out this nail polish organizer from Home-it.
I'll only share this one today, but you can find a ton of these on Amazon. I picked this one for the price, storage, and great reviews.
Now, this particular nail polish organizer has 5 tiers. You can store 60 Citadel pots, or 80 Vallejo bottles.
The size of the stand is 16 long x 8 deep x 7.5 inches tall, which is quite a bit of storage considering the footprint.
I bought two of these for my painting desk because the price is great, it stores a lot of paint, and I really like the tiered shelf style of it.
Anyway, this is a very affordable solution that looks great. This is also one of the more space economical options listed here. There's no frills, no wasted space, just shelves.
I also did do a short review of this acrylic paint rack if you're interested.
OPHIR Wooden Paint Rack
This paint rack is made with a laser cut wood. It's light and easy to put together.
This one has 16 large holes, 42 small holes, and 22 mini holes. So, you've got a variety of sizes to work with to store an assorted collection of paint pretty easily.
The cool thing is that this stand has two drawers below it all, which is perfect for putting some hobby tools in.
All in all, this is a good rack at a reasonable price and great for anyone looking to combine storage.
The Broken Token
While similar to the GameCraft miniature paint rack, the one from The Broken Token differs in that it's made of birch plywood, not MDF. That's a pretty big quality difference right there.
The one I found is 35mm, so it will fit your Citadel paint pots or P3 pots, and of course any dropper bottles from Vallejo and such. There are other versions of this as well, like the 26mm for dropper bottles.
The back of the rack also has spots for paint brushes, so you can get most of your stuff on here if you need a portal solution.
There is also the ability to connect multiples of these together to form a larger painting storage organizer. Great if you've got a lot of space where you paint.
This setup will hold 28 bottles and 17 brushes, and the size of the rack is 9.8 x 8.1 x 6.75 inches, making is pretty small and easy to move around.
Being that this one is made of plywood, is affordable, great reviews, and is probably one of the better looking racks I've found, I feel like this one is the best deals
.
Vallejo
Not too surprising that Vallejo has their own miniature paint rack options.
Modular
First thing is that the Vallejo system is modular, so you can combine this with other Vallejo paint racks. Like, they also have a corner rack you can buy
. So, you could combine this with that and make a whole system.
Now, this particular paint stand will hold 22 brushes, 8 larger bottles (like thinners), and also 60 paint bottles.
Of all the paint storage systems I've found, this has the largest storage capability while also being the cheapest. Yep, more storage and less money than the others covered so far, which is crazy.
You can't go wrong with this; seriously. If you're only painting with dropper bottles then this is easily the best deal
I've found.
Wall Mounted
Another great option from Vallejo is their wall mounted paint rack. Again, the great thing with these vertical setups is the space you save on your desk.
This one is smaller than the previous one by GameCraft, holding only 43 dropper bottles. It also takes up a bit more space being 15″ x 12″ x 2″.
However, this is a great looking display where you can easily see the face of your bottles, unlike the GameCraft option.
Also, this one does not require assembly.
Another great choice by Vallejo with a quality rack.
My Recommended Miniature Paint Racks
I put together a quick chart showing my top 3 picks from all those I've found.
This storage setup doesn't use a lot of room. It requires some building but nothing complicated.
Only holds dropper bottles.
A modular setup from a big name at a very reasonable price.
Only holds dropper bottles.
This rack is the cheapest and holds the most paint. A clear winner if you ask me.
Holds pots and dropper bottles.
Conclusion
I was honestly pretty surprised with small the selection in finding a miniature paint rack. I really expected to have to sift through like 50 of them, but instead I struggled to find any worth looking at.
Right now I have to say that I'm leaning on the Vallejo. I've always loved their paint line, and it's an established company I know, so there's some inherent trust there.
We'll see though. I could easily change my mind as I'm prone to do. Supporting people on Etsy is always a good choice as well.
Then again, I may just slowly piece together a setup from HobbyZone as well. I have a small area now, so I don't need much, but the beauty of a modular setup is it's easy to grow.
Now, I also have an article covering hobby tool organizers if you're looking to keep your workspace nice and tidy as well.
Oh, I've also got some storage and organization ideas for paint brushes. If you're like me then you have too many of them, so keeping them neat really helps you find the brush you're after.
Also, if you're looking to get organized and show off some miniatures, I've got a good article on miniature display cases you should check out.
On a related note, on my other blog I have an article on the essential miniature painting supplies that everyone should have that you may find interesting. That article covers the basics that everyone should have, as well as some awesome tools that you don't need but are awesome to have.