I paint miniatures. I have a ton of brushes. Like most people, my brushes are thrown into a cup (well not thrown), and continue to add to my collection. It's nearly impossible to find the brush I need when I need it. So, I started looking for a paint brush organizer to finally wrangle my brush collection.
The big thing for me is finding a paint brush organizer that's space efficient. I don't have a big desk I paint at, and I already have 1/3rd of it taken up by my acrylic paint paint, so I need to maximize the space I have left.
Anyway, like usual, in doing research I've collected a list of potential products that I'm sharing with you all.
Disclosure: Some of the links below are affiliate links, meaning, at no additional cost to you, I will earn a commission if you click through and make a purchase. The commission earned helps maintain this site.
Paint Brush Organizers
First up, I will include some very basic paint brush organizers. Most of us have some now, be it an old cup or some other vertical container you put your brushes into.
Mostly though, this is aimed more arranged organizers. I don't know about you, but I know every brush I have, and they all have specific jobs, and I can spend a good long while trying to find that specific brush.
So, I want to get myself for organized, save time looking for things I know I have, and this list reflects those things I find as I search for paint brush organizers that are useful.
You're going to see a common theme among these paint brush organizers. The design is pretty common with most of these in the list. I tried to diversify the organizers as much as I could, be it price or design, so hopefully you can find something that interests you.
Also, this will be alphabetical to make things easier. Well, easier for me anyway 😉
AlwaysHobbies
Have you heard of HobbyZone? Well, these are the folks that make the HobbyZone products.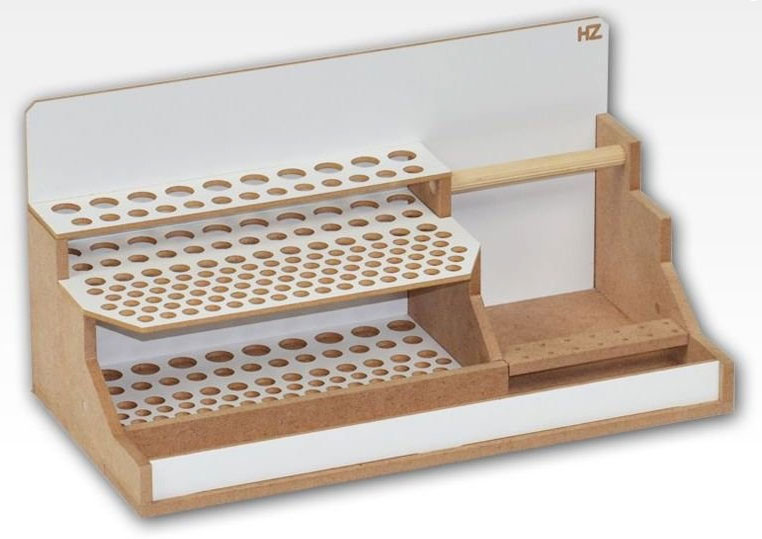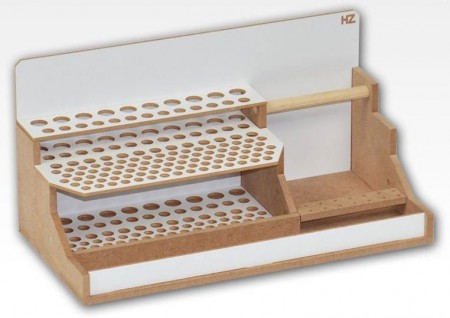 First up is one of the HobbyZone brush and tool organizers they offer. This one has (seriously) a total of 131 holes for brushes and tools. It's part paint brush organizer and part hobby tool organizer.
As with most of the HobbyZone stuff, this is modular, so it will fit into any existing HobbyZone setup you have, or this could be your first piece on the way to building your perfect hobby organization setup.
Here's another piece from HobbyZone, however, this is a standalone paint brush organizer, not part of their modular system.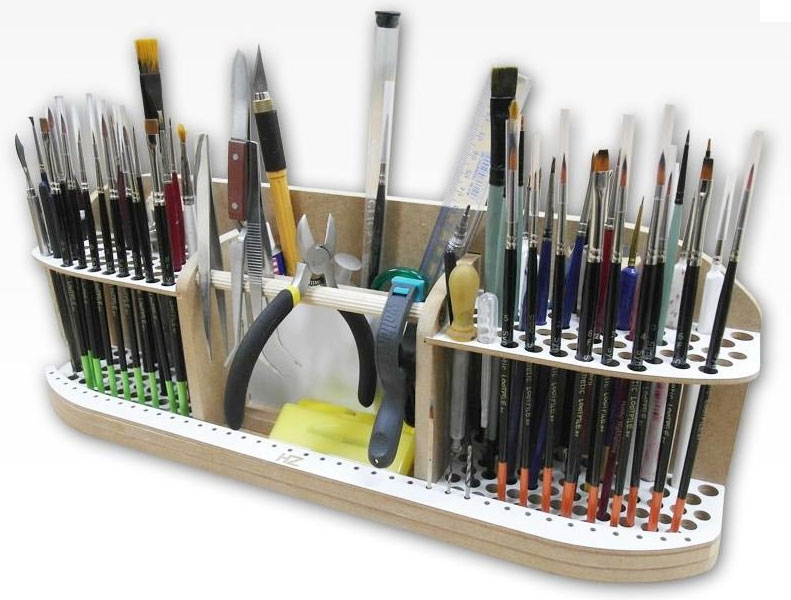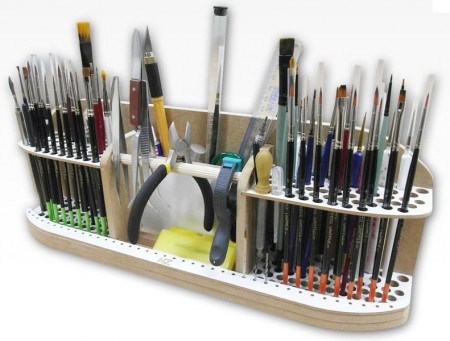 Anyway, this brush and tool holder features 156 holes of various sizes to accommodate anything you need. It's a simple design that looks great
I really like the setup of this paint brush organizer.
Creative Mark
Here we have a pretty standard paint brush organizer from Creative Mark.
This particular holder has 49 openings for brushes, tools, and whatever else you decide to put in there.
The footprint on this is pretty minimal also at only 5.5 inches in diameter. It's also 4 inches tall if you were curious.
The price is great, it holds plenty of brushes, and does the job as advertised.
Homegrown Artist
This paint brush organizer from Homegrown Artist is very similar (damn near identical) to the one from Creative Mark above.
The price is similar on this as well, though a bit cheaper.
I included this one mostly because it's a little less expensive and it has two solid reviews.
JackCubeDesign
This one by JackDubeDesign is similar to the traditional organizer but scaled up a little.
What sets this one apart from the rest is the 360 degree rotating design. It makes perfect sense when you have a circular organizer.
Also, this paint brush organizer is made from bamboo, so it just looks great.
There's less storage on this than most others at only 27 holes, but this is a quality product that just looks classier than the plastic options in this list.
JPModelWorks
This isn't the biggest or most affordable paint brush organizer on the list, but it looks cool, so I had to add it in here. I'm a sucker for a contemporary vibe.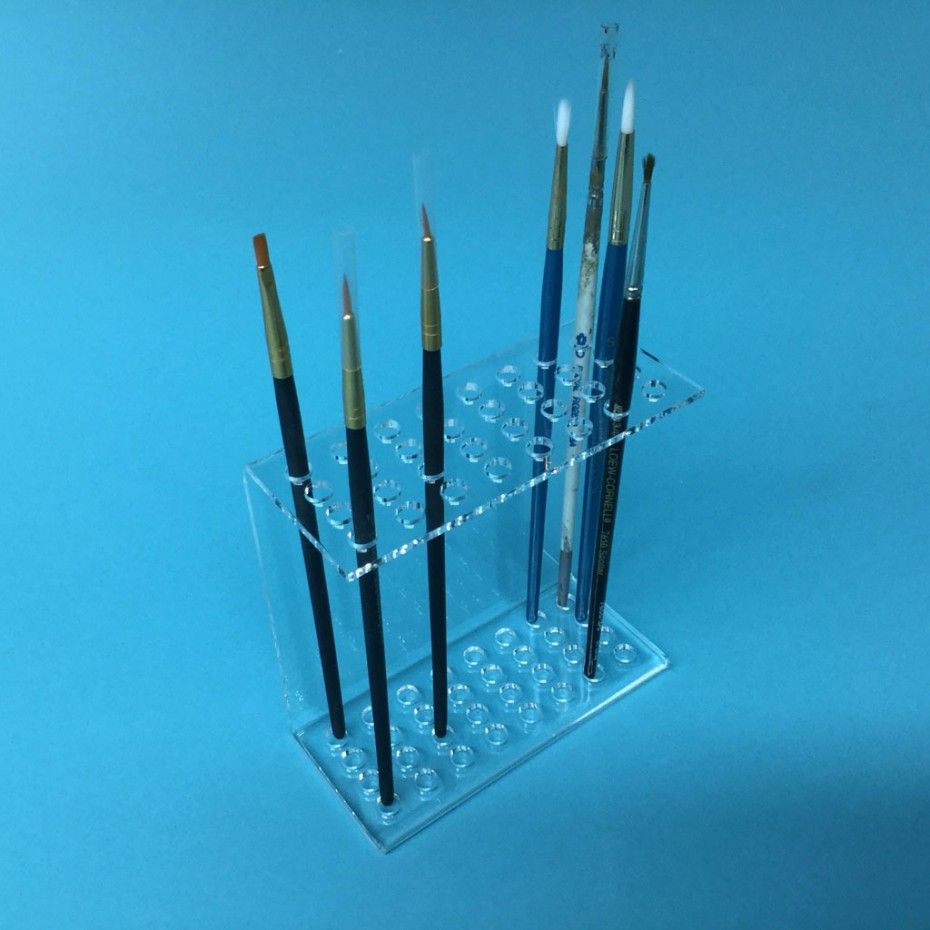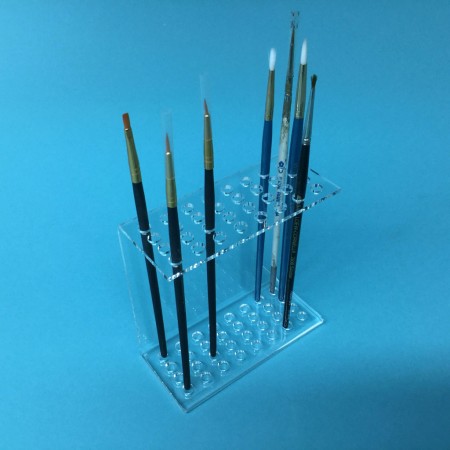 Despite a small size of only 4.5 x 2 x 4.5 inches, this brush holder will store 32 brushes. It's made of acrylic, so it should last you forever with proper care.
I was just struck by the cool, minimalistic aesthetic of this holder. Plus, I'm a fan of helping out folks on Etsy make a living.
L'ÉMOUCHET
This particular brush holder has various sized slots to allow you to organize hobby tools as well.
I'll be honest, the holes do seem on the larger size. The smaller holes are 1/2″, which is way more than you need for a miniature brush. However, this thing does hold 86 items though. Plus, the other brush holders have holes of a similar size, so it's not like this one is any different I suppose.
The footprint on this 10.2 x 5.4 x 2.9 inches, so not overly larger considering how much you can store. I do like the design having a very industrial look.
This paint brush organizer is made of metal, so it's going to hold up to abuse, and it is very reasonably priced as well, as well as being well reviewed.
Loew-Cornell
Yep, another circular 49 hole organizer!
I'm just giving some options here and this one is because it's the cheapest of the ones like this shown, it has a lot of great reviews, and it's a best seller on Amazon.
The size on this paint brush organizer is 8.2 x 6.8 inches, making it bigger than the previous ones here.
The quality on this Loew-Cornell one seems a step above the rest and likely the one I'm going to pick up. Check it out for yourself.
Masterson
A unique brush holder from Masterson.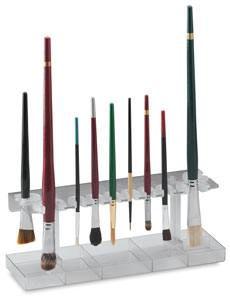 This paint brush organizer is small, holding only 10 brushes, but this is a brush holder you'd want for your best brushes, not your workhorses.
What this organizer does is holds your brushes upside down, in a more natural position to dry. It also has containers below to catch the drips as the brushes dry.
At a pretty affordable price, this may be worth picking up along with one of the larger holders in this list. Use this for the brushes that matter and the other to hold the assorted collection we all have.
Mont Marte
Same concept here as the rest of the paint brush organizers, but this one from Mont Marte has storage for up to 96 brushes, pencils, etc.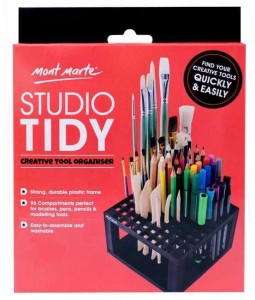 Oh, it's square. You know, if shape matters to you and you don't like round or something 😉
The great part too is the size of this is only 7.9 x 6.5 inches, so it holds a lot but doesn't take up a ton of space either.
The price on this is comparable to the rest and it's also very well reviewed on Amazon. This is another serious contender for me.
MyArtscape
Unlike the other paint brush organizers, this one doubles for travel. While most of us don't need something for travel, there are some folks who do so I figured I'd show this one.
This will hold 15 paint brushes and props up to easily get the brushes when you're painting.
Honestly, it's just a great option for those who travel to conventions and events where they need to bring along their brushes.
Porcelain Brush Holder
I threw this one in the list just because it's different and also a clever idea.
So, this is a brush holder, not an organizer, and it's specifically for resting brushes when not in use.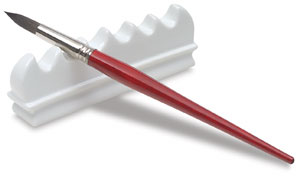 Now, I suppose one could use this for their brushes all the time, but the way I see this used is for when you're in the middle of painting and need to set a brush down. If you're like me then you set your brush on the table, but with this holder you have a dedicated space to rest the brush, keep it safe, and prevent it from rolling around.
This is really cheap to buy as well, so there's no reason to not snag this and get yourself a traditional paint brush organizer as well. I'm pretty sure I'm going to do that actually…
Yasutomo
Well, here we have a more traditional brush holder.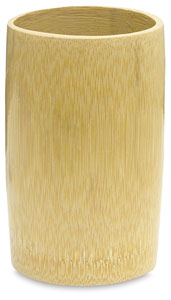 The nice thing with this one from Yasutomo is it looks great, it's made of bamboo, and it's waterproof.
So, if you're not looking to spend a lot and like to keep things simple, then this is a great choice. It's a nice little upgrade from a coffee mug.
Top Paint Brush Organizers
Of the organizers listed, here's my top 3 picks.
Acrylic holder that should last forever, cool design, minimal space needed, and reasonbly priced.
Various sized holes allow for storing larger items as well, like hobby tools. Plenty of storage and made of metal to last a lifetime.
Nothing fancy, just a plastic affordable paint brush holder that's extremely cheapt to buy. The most bang for your buck.
Conclusion on Paint Brush Organizers
So, there you have a pretty good range of paint brush organizers to help you get your hobby space in working order.
Getting my painting desk organized has been a bit of a task lately, hence this post, but I also have one on paint racks as well you might find interesting. That one is aimed more to miniature hobbyists though.
I also have a list of hobby tool organizers to help keep your painting desk clear of clutter.
Lastly, on my other blog I have an article about miniature paint brushes if you're looking for more information on those with tips and recommendations.