With Games Workshop having revived Kill Team, it has gained a lot of traction in the gaming community. People love playing smaller skirmish games that are fun and fast paced.
The other nice thing with a smaller game like Kill Team is the need for miniature storage is much smaller. Still, you need something to put those models in, so I've collected a list of cases to check out.
Disclosure: Some of the links below are affiliate links, meaning, at no additional cost to you, I will earn a commission if you click through and make a purchase. The commission earned helps maintain this site.
Kill Team Case Ideas
The list is alphabetical for ease of searching.
Battle Foam
There are a lot of carrying case options with Battle Foam. You can buy small cases or just foam trays as you need.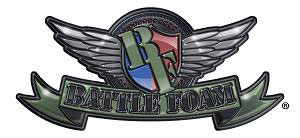 There's honestly just too many options to cover them all here, but check out that link and you'll very likely find exactly what you need.
I do have an article covering the best Battle Foam cases as well. In there you'll find the 352 case, which is great for smaller systems like this.
Chessex
Chessex has a great hard case you can snag. It's on the smaller size, able to hold 14 miniatures, so you could fit a few Kill Teams in there.
This is probably the least cool option, being a very simple setup, but the hard exterior is always great, it will fit into a bag easily, and the price on this is the cheapest option listed here.
So, if you're on a budget then definitely consider this one.
Feldherr
Feldherr always has some great carrying case options for every game, including Kill Team.
One of the ways you can go is with a magnetic box that has a custom cut foam tray inside for specific Kill Teams. Just pick your team and away you go.
The box itself is 11.4 x 7.1 x 2.4 inches. So, you can easily carry this around, or even throw it in a backpack if you want. The harder exterior will keep things safe for you as well.
This is a great size and at a good price as well.
Another good option from Feldherr is the MINI 32. As the name implies, it will hold up to 32 miniatures.
The case is 7.1 x 2.4 x 14.8 inches. It's nice, small, and easy to carry around.
The case comes with 2 layers of foam trays that are pre-cut and will fit miniatures for Kill Team easily.
It's a soft case with a zipper and the price is very reasonable.
All Feldherr products are a great quality and you can't go wrong with any of them. I also have an article covering more Feldherr options.
Games Workshop (Citadel)
Games Workshop has a nice small case that's perfect for Kill Team.
The case itself measures 7.5 x 2.5 x 10.5 inches in size, making it an easy to carry around option.
The case has one layer of channel foam, so you can keep your miniatures safe and snug in there.
It doesn't hurt that this case also has a cool aquilla logo on the front. Plus, the price is really reasonable and will let you carry along quite a few Kill Teams easily.
This case is also great if you play other smaller games, like Warhammer Underworlds, Blood Bowl, D&D, etc.
You can also consider going with the Citadel Skirmish Case if you want something a bit bigger. The Skirmish case will let you store all the miniatures you need and give you room for accessories as well.
This would be perfect for the gamer who is collecting all the Kill Teams, so basically everyone 😉
I do also have a review of the Skirmish case if you want a bit more info on it.
Reaper Miniatures
Reaper Miniatures offers a small carrying case that would be very well suited to Kill Team.
The case was designed for D&D, however, it's a great size for for a Kill Team as well.
The case is 10.5 x 9.5 x 3 inches in size and has a hard shell to keep everything safe.
There's a single layer of eggshell foam inside that should easily accommodate quite a few teams.
The great thing about this carrying case is the price, being the second most affordable option on this list.
Top Case Picks
These are my top 3 cases from the ones I've covered.
Alternative Storage
Now, I do also have a list of carrying cases of all types that offer some other suggestions that aren't Kill Team specific. You can find some larger storage, as well as smaller ideas that are perfect for the game.
A great alternative is also going with magnetic storage. A magnetic setup is great for Kill Team because you have so few models to deal with. It's what I do with Warhammer Underworlds and Blood Bowl for that reason and I love it.
Conclusion
Hopefully you found some ideas here. You can get away with some pretty small and affordable cases for Kill Team, just make sure you get something. There's nothing worse than not protecting your miniatures and damaging them. I know you're thinking "But it's only 4 models!", and while you're right – play it safe.
There's no doubt more options than I found and covered above, so if you have any that I missed, then please let me know in the comments.