There are a TON of miniature storage cases out there. While I'll attempt to collect them all here, at least the companies who create them, there's no doubt I'll fall short. There's just too many!
The cases I'm listing will range from small simple cases, like you may use for D&D, to large cases to transport entire armies in, like those for Warhammer 40K.
There will also be a large price difference as well. Some cases you can buy for the cost of a few coffees, and others require some serious investment.
Either way, hopefully you find what you need below!
Miniature Storage Cases
The list is alphabetical for reference.
Disclosure: Some of the links below are affiliate links, meaning, at no additional cost to you, I will earn a commission if you click through and make a purchase. The commission earned helps maintain this site.
Chessex
Yep, one of the most popular companies known for gaming dice also makes miniature cases.
Chessex offers a few sizes, but overall they're on the smaller side of things, so perfect for those small skirmish games or RPGs.
The cases are made of a thin plastic. They seem sturdy enough, but I probably wouldn't stack groceries on it or anything. However, the small size and light weight make them easy to carrying around and just toss in a gaming bag.
The cut out size in the foam that comes with the miniature cases varies, but they're all around 1.5 x 1 inch, so great for infantry sized models.
These are probably the most affordable case options on the list too if you're looking to save a few bucks.
If you're after more small options like this for D&D, then I've done a more thorough review of those options. The cases and storage options I focus on in that article are smaller, more affordable, and easier to carry. Let's face it, D&D players don't typically need to storage 400+ miniatures.
I've also got some ideas for those into Battletech as well, if you're looking for more specific choices there.
Citadel
If you play anything by Games Workshop then you know who Citadel is, which is the product line for Games Workshop.
The cases by Citadel range from the smaller Skirmish Figure Case to the larger Crusade Figure Case.
All of the cases are designed to transport your armies for Warhammer 40K, Age of Sigmar, etc. So, they're large, made of a hard plastic, and have lots of room.
There's a bit of a range on pricing too from the Skirmish Case, the cheapest option, to the more expensive Crusade Case. It's a bit of an investment, but going with a larger case will probably cover all your needs as well. So, spend a bit up front and never have to worry about it again.
I've also done a review of the Citadel Skirmish Figure Case if you're curious about that. In that review I break down the case itself and let you know my thoughts on each element of it. It's a good read if you're seriously considering the case.
There is also a review I've done for the Citadel Battle Figure Case and the Citadel Crusade Figure Case, which is the largest case they offer.
Also, for you 40K players out there, or even Age of Sigmar, I also cover all the case options in more detail. That article covers the larger storage options you need for the scale of those games.
The Citadel cases are a great choice for anyone in any game who needs a lot of storage.
Quick Breakdown
Here's a little chart I made comparing the 3 most popular Citadel cases.
Battle Foam
No shocker that Battle Foam is on the list here. They may be the most known company in the business.
The great thing with Battle Foam is the wide array of options available. They offer everything and at a variety of prices.
The most popular line of miniature cases that Battle Foam offers is their P.A.C.K. system (personal army combat kit). These bags are lightweight, durable, and are perfect for carrying entire armies for larger gaming systems.
Now, the P.A.C.K. bags are not cheap, at least if you get them loaded with foam trays, but with the right bag you won't need to buy another.
Battle Foam also has smaller options for smaller games. They have a line of EVA Cases, which are awesome when you don't need to store 200 models. The EVA Cases look great and are super affordable as well.
You would be hard pressed to find another company that has as many choices that Battle Foam offers for miniature cases. It's a great company with high quality products. You can't go wrong here.
I do also have an article covering the best selling bags that Battle Foam offers.
Feldherr
Here's another company, Feldherr, with a lot of miniature cases, great quality, and affordable prices.
Feldherr has some sleek carrying cases that are priced very reasonably. They have smaller choices, like their MINI, that's great for 32 miniatures, to larger ones aimed for transporting armies, like their MAXI.
You can also find a range of setups for various games like X-Wing, Shadespire, and more. The game specific ones come with pre-cut foam trays to perfectly fit your miniatures.
I just love the look of their cases; they're clean, minimal, and just look great.
Also, I can't say this enough, that their prices are some of the best out there. Granted, the cases aren't a hard plastic like Citadel, but that's also what makes them easy to carry. In fact, many of their cases have a shoulder strap, and some a simple handle.
If you'd like to check out more of their product line, then glance at my review of their options.
ENHANCE
These folks seem a bit new to the game of carrying cases, but what I've seen looks great.
ENHANCE has a case that carries up to 108 miniatures. The case comes loaded with 4 foam trays.
Of course the case has room for rulebooks and accessories.
The case has a nice design, different than the norm, and comes with a 3-year warranty. So, you know these folks trust their product to hold up.
Game Plus
A very simple offering from Game Plus, a shoulder carrying bag for your miniature foam trays.
The bag is made with a high-quality nylon and has a shoulder strap for ease of carrying. The bag is intended to carry their line of foam trays, but it will also carry other standard sized trays, like those from Sabol.
The price isn't bad either considering how much you can carry in the bag. The height of the bag is 15 inches, so you can pack quite a few foam trays in there.
I think this is a great choice for someone after something simple that won't break the bank.
KR Multicase
While I'm not super familiar with KR Multicase, they do have a lot of miniature case choices available.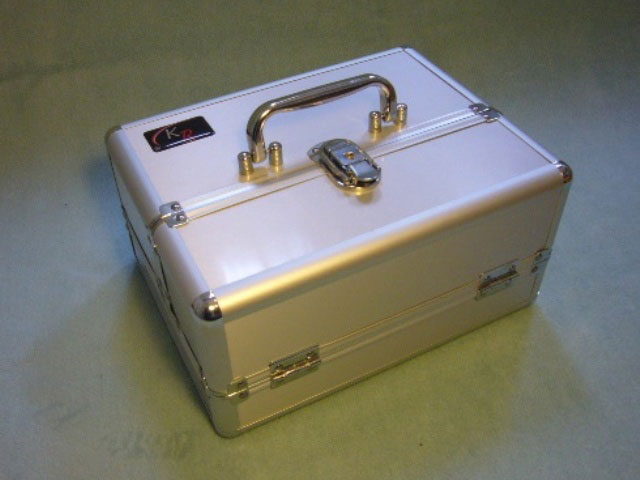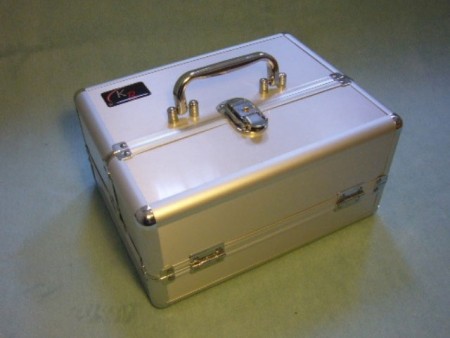 The cases they offer range from effectively cardboard boxes to hard shell cases. Of course, they offer more traditional carrying cases as well.
The prices aren't terrible either and you can even find some discounted bags. Heck, they even backpack style cases as well, which do look pretty awesome.
Definitely worth checking these folks out.
Prime Time Foam
Another singular miniature storage case option here.
Prime Time Foam has a really simple figure case that holds standard sized trays, like those that Sabol offers. The height of the bag is 10.5 inches, so not a huge bag, but enough for smaller scale games.
Admittedly, the price isn't the best for the size, however it is made in the U.S.A.
Reaper Miniatures
Aimed at the smaller scale gamers and collectors, Reaper Miniatures offers a case option.
This small case measures 10.8 x 3 x 9 inches and comes with foam in it. I'd wager you could fit 20 models or so in there comfortably without any issues.
It's got a simple handle so it's easy to carry around.
This case is really cheap (price), so not a bad option for those on a budget with a small collection.
Tabletop Tyrant
Having been in the industry since 2007, Tabletop Tyrant has a decent selection of miniature storage cases.
Tabletop Tyrant's offerings range from standard carrying cases, the Dreadnought holds 390 models plus 8 tanks/monsters!), to smaller more affordable options like their Kingmaker Figure Case.
The cases are simple in design and pretty typical of what you'd expect.
Now, the price is a bit high, but you're also getting foam trays included in a lot of their offerings, so it's not all that bad.
If you want some more info on Tabletop Tyrant's cases, Caladaris did a good review of some of the cases.
Sabol
Lastly, we have Sabol, another old company in the industry of miniature storage cases.
I won't go do in-depth here since I've already done a complete review of all the cases that Sabol offers, but I will say they make great bags. Definitely check that article out if you're interested in Sabol's bags. The article looks at each case they make.
I own the classic ArmyTransport bag that Sabol has, which I've had since 2006 and still use to this day. All of their stuff is well-made and holds up great.
I would say that Sabol has some of the most competitive pricing in the market as well, especially considering the quality. I'd highly recommend any of their cases to anyone.
Bonus: Magnetic Cases
If you're looking for something a bit different, say magnetic miniature cases, then I've covered those as well.
Magnetic cases are great for quick setup & pickup, and they are also very space efficient, unlike traditional foam trays. They're a great option for a lot of gamers.
The Best of the Bunch?
Here's my top 3 picks of my favorite cases from cheap to expensive.
This case is very affordable considering how much it can transport. It's easy to carry and also looks great.
This case will hold up to nearly anything and stores a good amount of miniatures. Great for nearly any army you own.
While expensive, Battle Foam's cases are worth every dollar. This thing holds 720 models; you can't go wrong here.
Conclusion
Well, there's my exhaustive list of miniature storage cases!
Like I said above, I likely missed a few (probably a lot), so if you have any favorites that I didn't mention then please share in the comments. I'd love to continue to grow this list and help fellow gamers out!
If you're curious what the best buys are, the cheapest/affordable cases, check it out. The cases I cover there are the best bang for your buck. Also, they'll cost you less than buying a box of miniatures.
If you would like even cheaper options, then check out my list of miniature storage boxes and containers. Those are more affordable options that might suit your needs.