Do you like Battle Foam but find it expensive? Maybe it's not available in your area? There's lots of reasons you could be after a Battle Foam alternative, so I'm hoping to cover all those reasons below. Well, at least as many as I know of or could find anyway 🙂
Battle Foam Alternative
Once upon a time our only options for miniature foam trays was pluck foam. I know that's where I started. However, in recent years Battle Foam has exploded onto the scene by offering up laser cut foam. Not only is it laser cut, you can get custom trays made for exactly what you need.
Other than miniature trays, the other appeal with Battle Foam is their one-stop shopping for trays and bags. You can buy complete storage solutions from them. It's not cheap, but you can get everything you need in one shot.
Battle Foam is a great company with some great products, no doubt about it. However, some people want something more affordable, and I can't blame them.
I'm not saying Battle Foam isn't worth the money, it most certainly is, but sometimes you're on a budget and need to check out some alternatives.
So, here's a list of alternatives to Battle Foam listed in alphabetical order.
Disclosure: Some of the links below are affiliate links, meaning, at no additional cost to you, I will earn a commission if you click through and make a purchase. The commission earned helps maintain this site.
Citadel
Citadel has expanded quite a bit in recent years to offer more foam trays solutions, as well as various hard cases to put it all in.
There's a good selection of choices now that range from something small like the Skirmish Figure Case, to something larger like Citadel Crusade Figure Case that will fit an entire Warhammer 40K army in it.
The cases are a hard plastic and will hold up to a lot of damage. Also, the cases come with the foam included, so it's quite the deal overall.
Citadel is a brand that's been around forever and isn't going anywhere. Everything they produce is quality (Finecast aside!), so it's a worthwhile consideration.
I do also have a review of all three cases:
Official Site: http://www.games-workshop.com/
KR Multicase
These folks have a decent range of products with offerings for different gaming systems.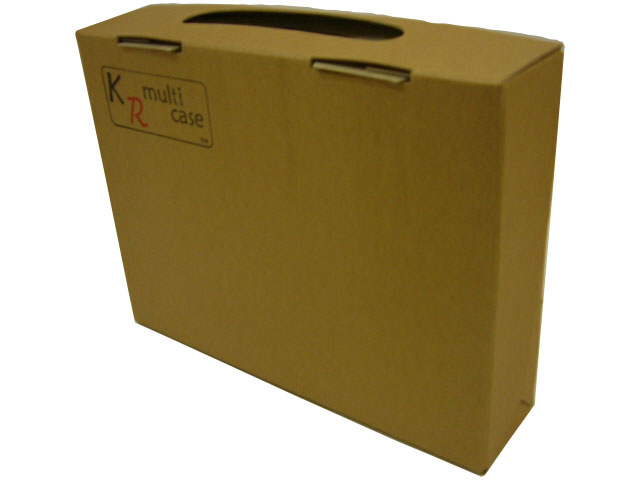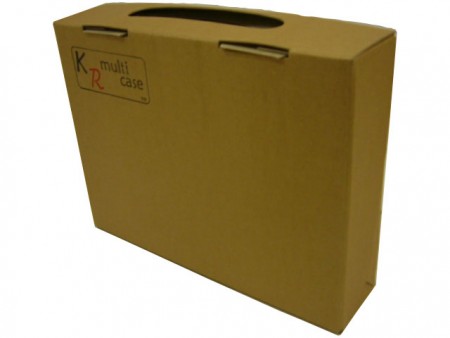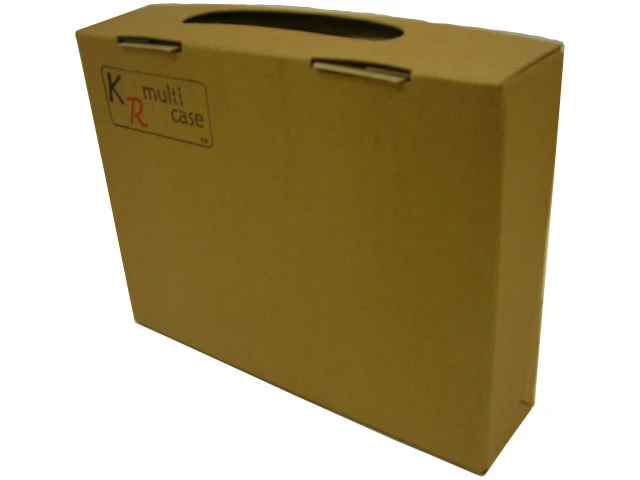 While they have your typical carrying bags, they also offer some really affordable options with cardboard boxes.
Yep, cardboard boxes. The boxes are a bit fancier than I'm making them sound though.
They aren't the only company making something like this. Boxes like this have become relatively popular in recent years as an economical way to transport trays.
On the other end of the spectrum, KR Multicase also has some hard aluminum cases as well. Perfect for those not wanting to take chances, like someone who travels a lot.
These suckers look sturdy as hell. If I were to fly to an even then I'd probably get one of these.
All around I find the prices to be very reasonable and worth checking out.
Official Site: https://www.krmulticase.com/
Feldherr
Feldherr is a company based out of Germany that I recently discovered. They have a lot of different options available. Seriously, the only company with more options is probably Battle Foam.
If you want to buy laser cut foam for whatever gaming system you're playing, and also get yourself a bag to put it in, then you can find that with Feldherr.
Again, there's a very large selection available, so definitely browse around.
As far as price goes, I find them to be a bit cheaper than Battle Foam.
Course, you can just buy your trays from Feldherr if you're trying to save a few bucks too.
And of course, you can just buy empty bags and cases from them as well.
Feldherr offers a lot of different case and storage options. If you'd like to see more of what they have, then check out my review of their cases.
Official Site: https://www.feldherr.net/
Game Plus
Games Plus is a smaller company who offers pluck foam and some larger carrying bags.
I have not used these folks, but the quality looks good. Plus, it has that very cool red bottom, which is a neat selling point.
Prime Time Foam
Admittedly, I'm not super familiar with Prime Time Foam. I discovered them in doing research for this article.
However, I have seen that they offer pluck foam trays at a good price, and they also have some miniature carrying cases as well.
Worth checking them out.
Sabol
Anyone who has been gaming for years will know the name Sabol.
These folks are some of the originators of the pluck foam, which remains a great option for any gamer.
The cool thing with pluck trays is you can customize them to suit your needs without paying the premium for custom pre-cut trays.
Hell, when I got into wargaming in 2006, Sabol pluck trays were pretty much the only thing on the market. I've still got some of those trays all these years later too. They hold up damn well.
Sabol is also one of the early army transport creators. Some of their earlier bags are small, like the original ArmyTransport, but they've grown some larger sizes over the years by offering cases like the Division. You can stuff an entire army in the Division – it's HUGE!
My first case I bought was the ArmyTransport, and I still use it to this day. I bought it back in 2006 and the thing is still in great shape. I have a larger case for my Warhammer 40K stuff, but I use my original Sabol case for smaller stuff like Shadespire warbands.
Sabol stuff lasts forever and the prices are great. You can't go wrong at all with these folks. They've been around since 2002, so they're doing something right.
Official Site: http://www.saboldesigns.net/
Tabletop Tyrant
Tabletop Tyrant has traditional bags with foam trays.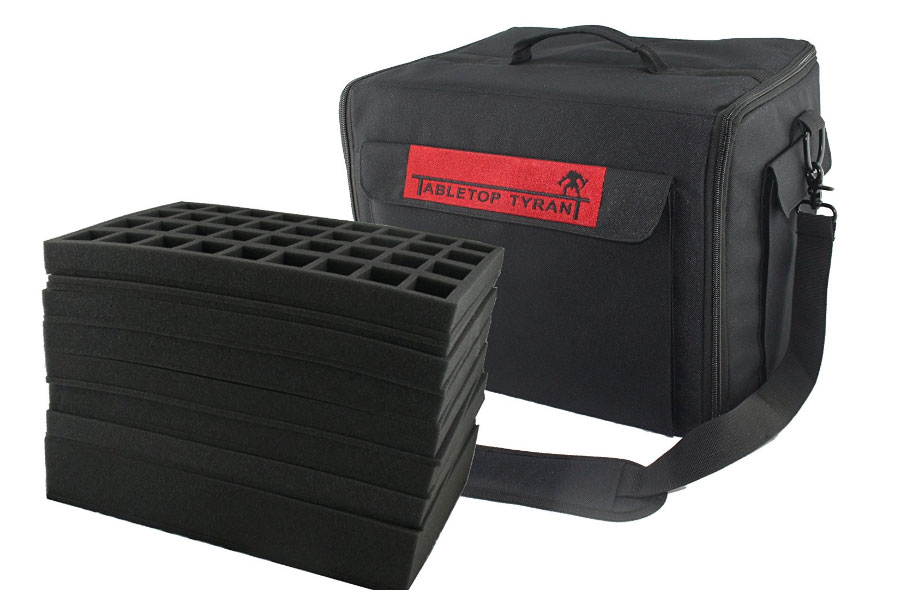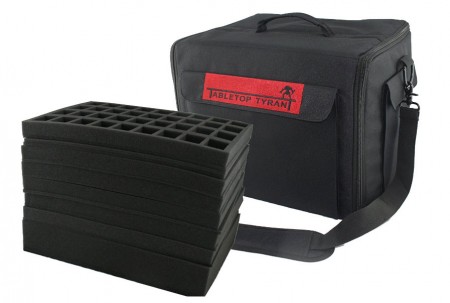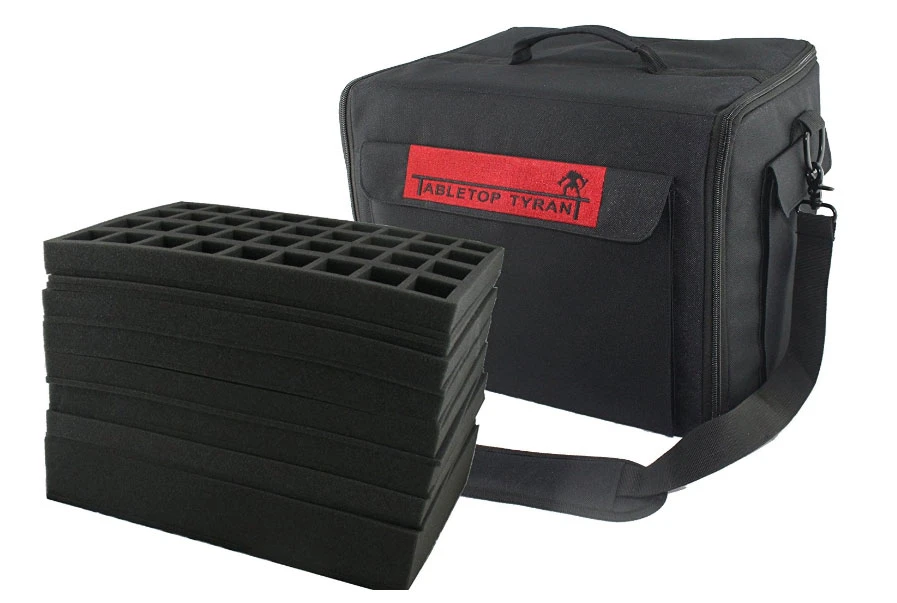 The bag measures 15 x 11.8 x 11.8 inches, same as the above case, and the carrying bag is a typical fabric.
This one has 7 trays total, 6 for infantry, 1 vehicle tray, and 3 cover trays. You can store up to 8 tanks and 216 infantry into this, which is impressive. A pretty reasonable buy as well.
Tabletop Tyrant has a few other cases as well, though they only get more expensive, but you can check them out anyway.
Also, one of my authors did a great review of some of the Tabletop Tyrant cases they offer.
Official Site: https://www.tabletoptyrant.co.uk/
Tablewar
This is a very different option than the others. Instead of foam trays and bags, Tablewar has display cases.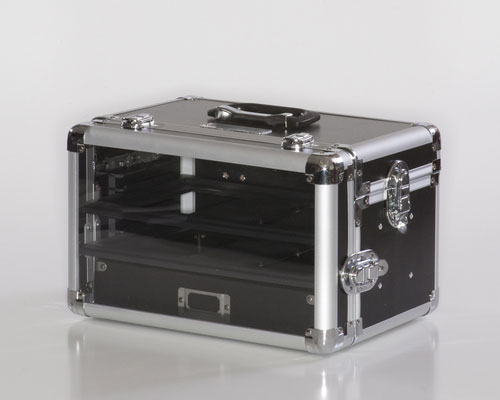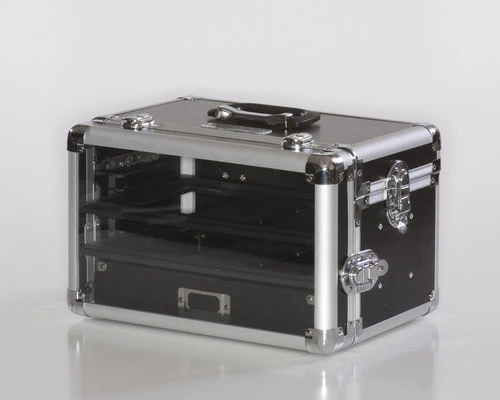 Now, these looks pretty awesome.
If you're playing a game with a low model count, like Shadespire or Warmachine/Hordes, then this could work. I know there's people who use this setup with magnets to keep things in place during transportation.
If the magnetic approach interests you, then check out my list of magnetic miniature cases.
Official Site: http://www.tablewar.com/display-cases/
My Top Case Picks
Here's a quick breakdown of my top cases listed. I've listed them from cheap to expensive options.
This case is very affordable considering how much it can transport. It's easy to carry and also looks great.
This case will hold up to nearly anything and stores a good amount of miniatures. Great for nearly any army you own.
The most expensive case listed but also the most storage. It's a good looking case that will hold an entire army.
Conclusion
There are a lot of different options available out there for a Battle Foam alternative. Just because they're the big dog doesn't mean they're the only one.
Another option that I didn't mention above is making your own foam trays. It's easy to do and the cheapest option.
Lastly, I also have a list of my top 3 cases that are cheap to buy that's worth looking at. None of the cases on that list are from Battle Foam.
If you've got any to add to the list then let me know in the comments.