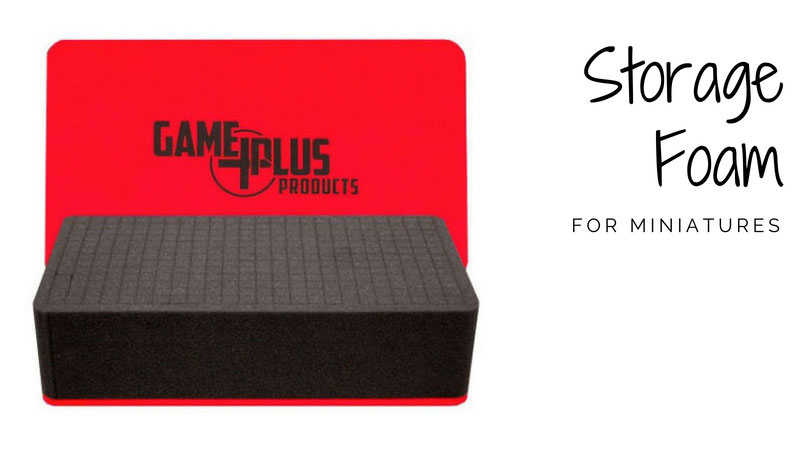 When it comes to miniature storage foam there's basically three options: make your own, buy pluck + pull foam, and get pre-cut foam trays.
So, I'll cover the various miniature storage foam options out there and help you find exactly what you're after, whether you're a wargamer or a collector. I am trying to stick to just foam options, not cases though. If you jump to the end of the article then you can find some links to game specific articles where I do cover cases as well.
Now, as far as making your own foam, I've got a tutorial on doing just that. There's a little work involved, but you'll save some money and be able to create exactly what you need.
Miniature Storage Foam
This list is in alphabetical order by manufacturer.
These are also short and sweet to get you where you need to be. I have included other resources where appropriate for more in-depth information on some of the companies further below.
Battle Foam
One of the coolest things with Battle Foam is the ability to design your own trays. It's what has made Battle Foam famous. It's an option you can't go wrong with if you have the money for it, since it is admittedly not cheap.
Custom options aside, Battle Foam does also offer some pluck foam trays as well in a range of thicknesses like a 2 inch tray
, which is great for infantry.
All the foam trays are 15.5 x 12 inches, so they all fit into the P.A.C.K. bags that they offer.
Now, the P.A.C.K. bags
are a great deal if you need miniature storage foam and a case. They're expensive, but you'll only need one of those cases for most any game you play.
Feldherr
There's a large variety of storage foam you can get with Feldherr. They offer pre-cut trays for various gaming systems like X-Wing
 and Shadespire
.
Feldherr also has some pluck and pull trays, like this 2 inch tray
, that will work for most gaming systems around 28mm.
Like Battle Foam, Feldherr also offers some case and foam tray storage
options, so you can get a bundle and some savings if you're in need of a case.
The thing I love about Feldherr is that they sell quality products at a very reasonable price. You really can't go wrong with these folks.
Game Plus
Just your basic pluck and pull trays here, though they gave them a cool factor with the red tray bottom.
The trays that Game Plus sells are sized at 10 x 8 inches, which means they fit perfectly into Sabol Designs cases
if you have one.
Game Plus, of course, sells a range of thicknesses like these 2.5 inch trays
.
I don't know much about these folks, but they have reasonable prices and the quality of the foam looks good.
KR Multicase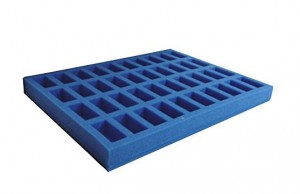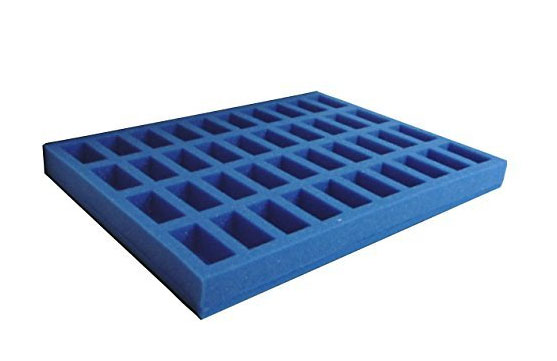 KR Multicase has a HUGE selection of trays. They sell trays for specific games, particular companies, pluck trays, pre-cut trays, you name it – they got it.
You really just need to browse their site to check out the enormous selection of foam trays. I can't even begin to cover it here.
The site for KR Multicase is kinda horrible looking, but it does have everything you need and it functions.
Oh, KR Multicase also has some miniature cases available too for all their trays.
Prime Time Foam
These folks just do foam and they offer some pluck trays and some pre-cut trays.
The trays are also 7.5 x 13 inches, so they'll fit into those ArmyTransport cases perfectly.
There isn't a huge selection, but Prime Time Foam has some great prices
.
Sabol Designs
Sabol has been around forever and offers great pluck and pull trays at a great price. I have some of their trays that I've been using since 2006 and they've held up awesome over the years.
The trays that Sabol sells are designed to fit into their own ArmyTransport cases they sell, so they're 7.5 x 13 inches in size with various thicknesses, like this 2.5 inch tray
, great for larger infantry.
I've also done a breakdown of the various cases Sabol sells if you're interested in some of those as well.
Bonus
If you're after an even more affordable option, and don't mind doing a little work, then I've got a great tutorial on making your own foam trays. It's easy to do and great for the thrifty hobbyist.
Conclusion
I've stuck to the more known names above, however, I do also have an article on pluck foam that's more detailed if you're after pluck foam.
Also, I try to cover various games as well like Warhammer 40K, Shadespire, and D&D if you're after specific storage options for any of those games.
Lastly, if you're looking to save a little money, then check out my best cases for under $50.