Not only do our miniatures need storage, but also our hobby tools, and our workspace needs organizing.
So, I've put together a list of various hobby tool organizers, boxes, containers, and storage solutions for your hobby tools, bits, and whatever you've got. Basically, various ways to keep your workspace clean and organized.
I'm continually adding and updating this list as well. But, if I missed something that you'd recommend then please let me know in the comments.
Let's dive in!
Hobby Tool Organizers
This list is in alphabetical order by manufacturer/creator of the solutions being shown.
Also, this is geared towards hobby tools specifically. If you're looking for painting storage solutions then I've got you covered there too.
I know the list seems short, but I didn't want to offer 5 slight variations on the same type of product. I figured I'd point you towards the best product of a certain type.
Disclosure: Some of the links below are affiliate links, meaning, at no additional cost to you, I will earn a commission if you click through and make a purchase. The commission earned helps maintain this site.
Akro-Mils
These folks have some very nice organizers which are very well rated on Amazon.
The cabinet is made of a rugged plastic, making it very durable. Each cabinet can be stacked or wall mounted as needed.
Akro-Mils has a lot of different sizes to choose from, but the ones I was looking at was the smaller one they have, which would fit on a hobby desk really well.
The size of the smaller one is: 10-1/2 x 8-1/2 x 6-3/8 inches. It's also very affordable.
The larger one they have I was checking out, well one of them, is: 20 x 6.4 x 15.8 inches. So, more something you'd mount on a wall for some serious storage.
Either option, or one of the many others they have, are great ways to organize bits for miniatures, smaller hobby tools, etc.
ArtHouseUA
This one is a bit different than the rest. Instead of buying the organizer, you are instead buying the laser cut vector model. So, if you've got a laser cutter then this is a great option for you.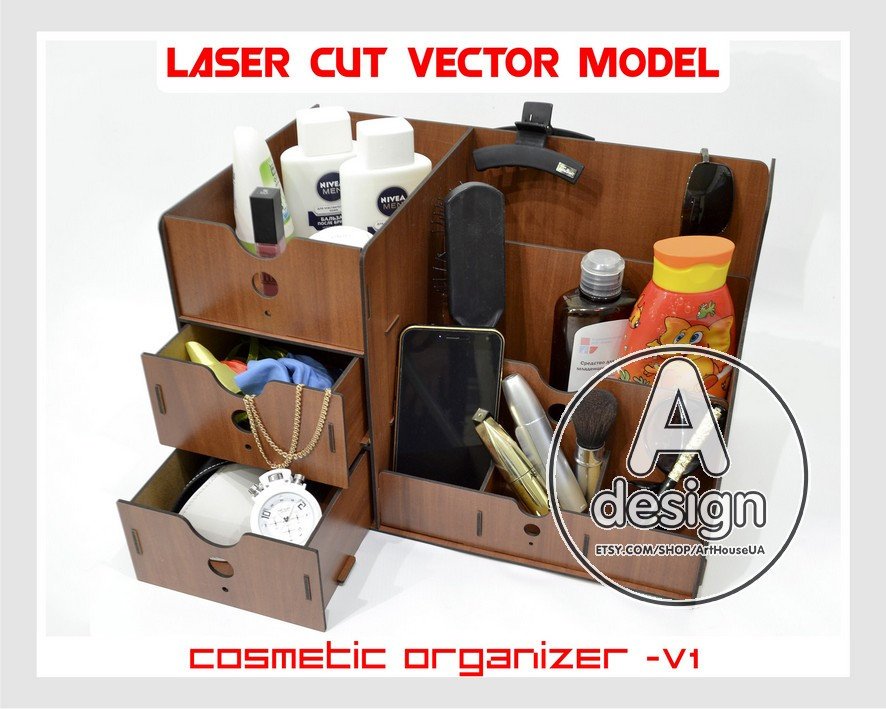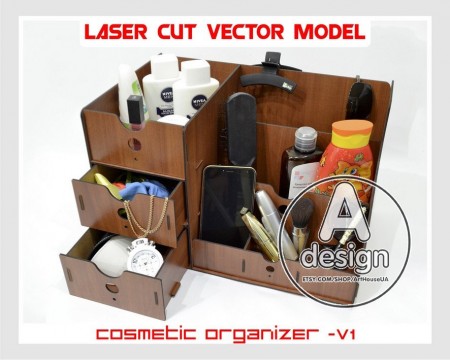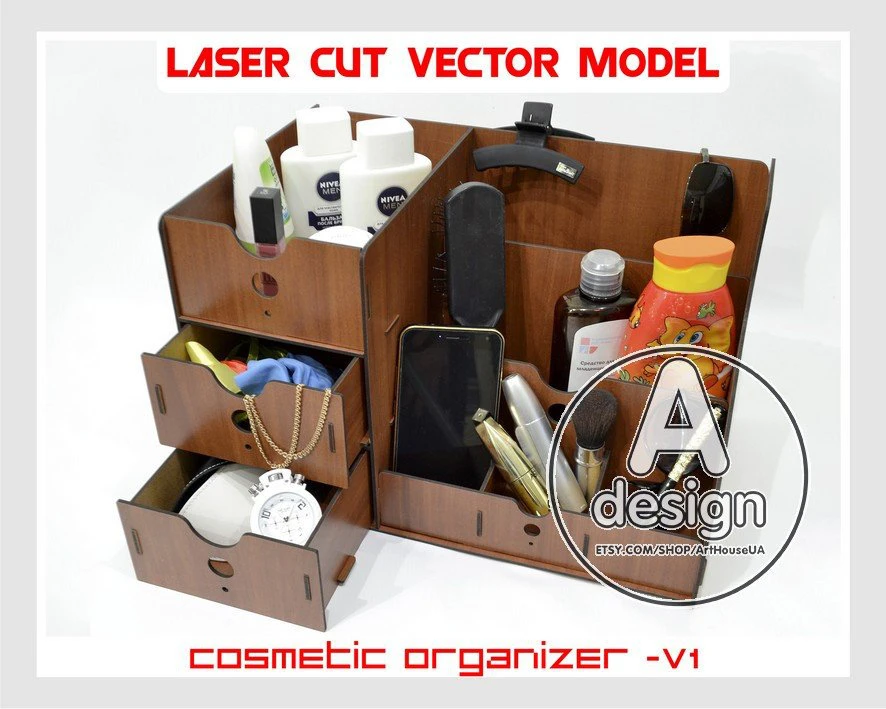 The design for this organizer gives you a few drawers and shelves to put your hobby tools.
The size of this ends up being 15.5 x 9.72 x 9.9 inches, which means it should fit on your desk pretty well.
There's quite a few details worth checking out, so I won't bore you here with them.
EuroTool
Now, if you're in the market for something more hand-built then there's this organizer by EuroTool.
Admittedly, this is a meatier organizer, and pricier, and it's going to take up some space. The size of this one is 18 x 5 x 3-1/2 inches, so it's got a decent footprint.
However, if you like wood products then this is a great way to go.
Impudent Mortal
If you're looking for affordable then definitely check out Impudent Mortal.
These folks have laser cut MDF units that cover a range of options. You can find a tool organizer, craft drawers, and also paint rack solutions.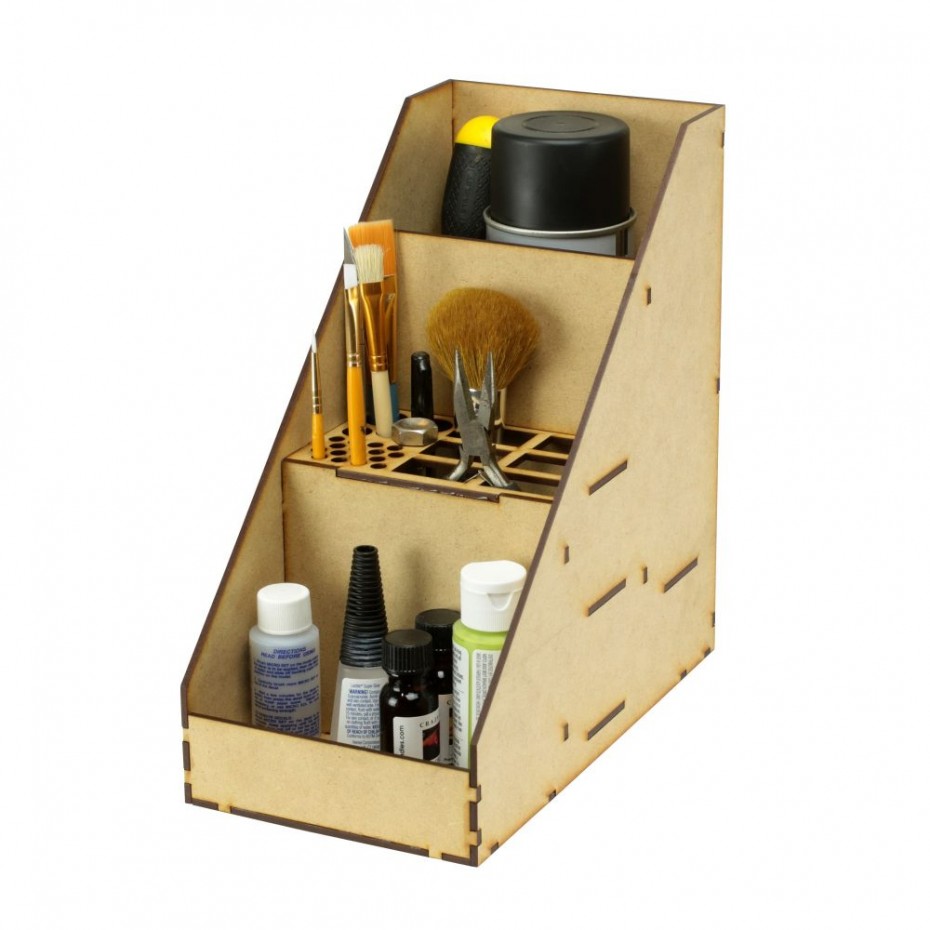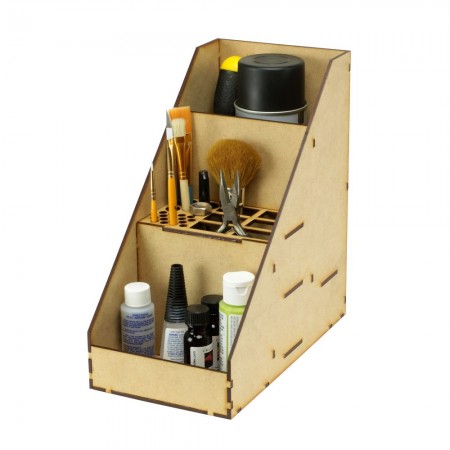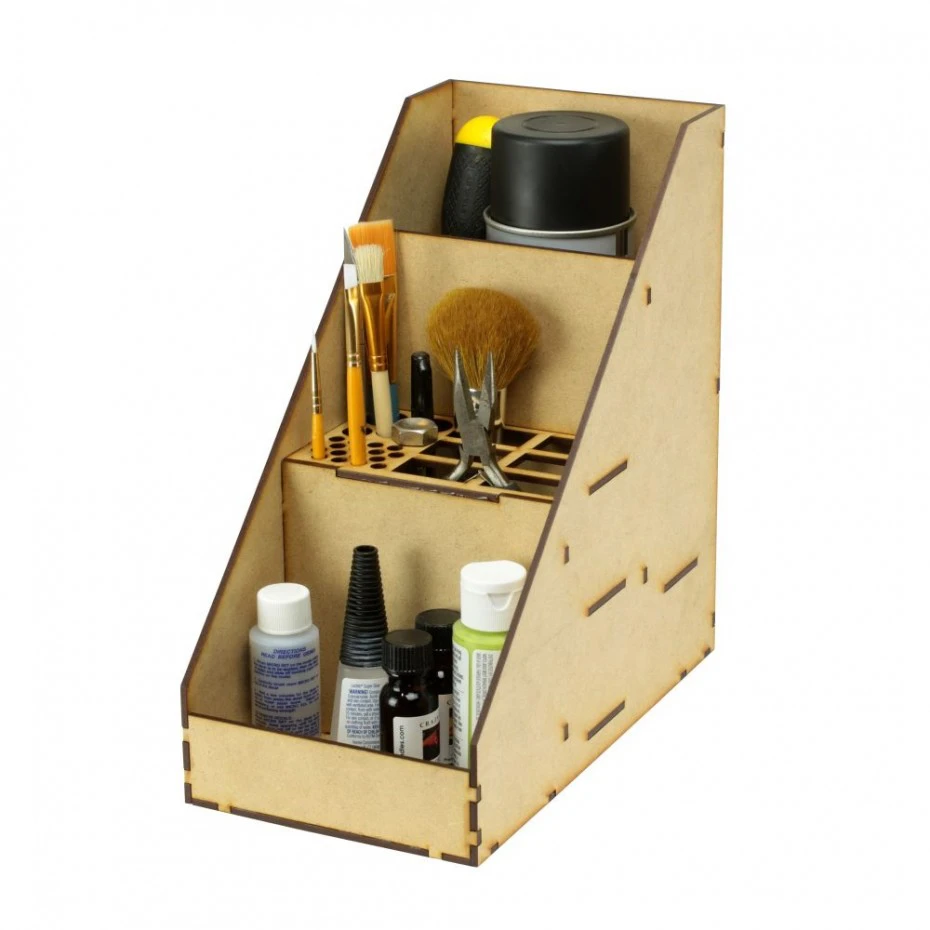 The price of these units is extremely affordable. You'll have to assemble whatever you buy but it's easy and a small price to pay for something that doesn't break the bank.
I highly recommend checking out Impudent Mortal.
PlansByGeorgo
Like the other above, this is also a vector model that you're buying for use with a laser cutter.
This one by PlansbyGeorgo is a bit bigger than the other above, and offers a lot more storage options.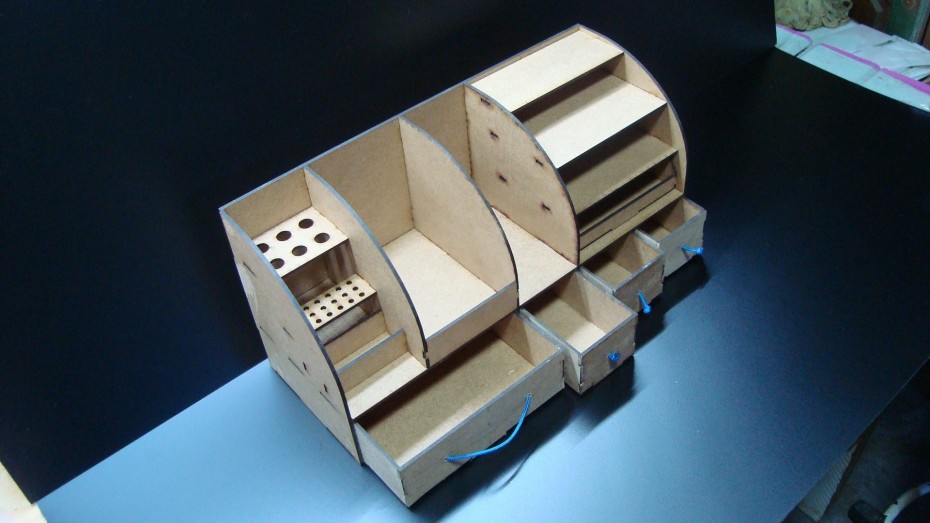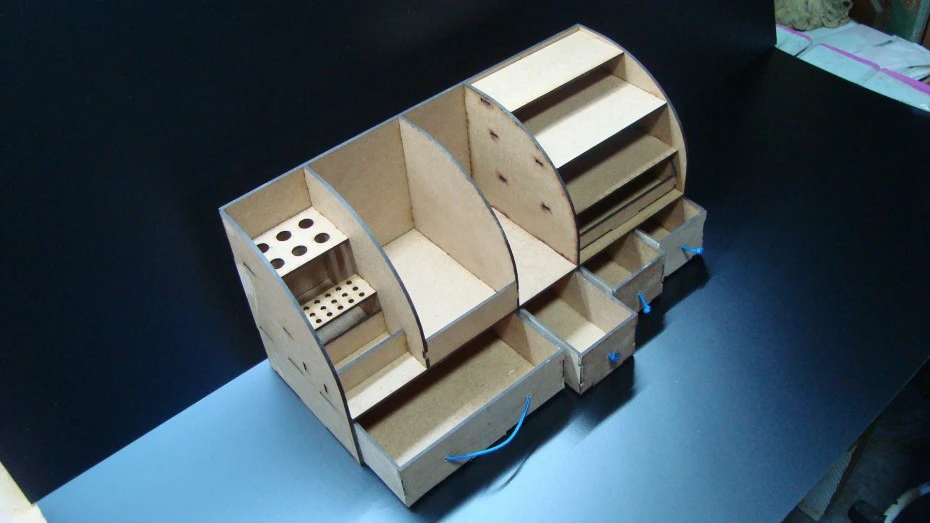 I just thought I'd throw out another option for those of you lucky enough to own a laser printer. Some day I'll have one…
Trinity
Another option for the wooden look is this hobby organizer by Trinity.
First up, this is a more expensive organizer, and certainly not for everyone. However, it is a quality product and looks absolutely beautiful.
This organizer features 8 pull-out drawers, a latching top lid, felt-lined interior, and silicon feat to prevent scratching the surface it's on.
It's a very impressive organizer that's also very well reviewed on Amazon.
Variag Products Inc.
Variag has some nice space-saving tool caddies. It's a great way to keep all your hand tools together and neatly organized.
Basically, they offer these in 3 sizes: small, medium, and large.
Despite the size, they are all constructed the same way, so it's really down to the size you need.
This is a newer product, so I can't speak to the quality, but I'd definitely consider picking one of these up.
VonHaus
Now we come to the storage option that most of us miniature modelers have/need.
VonHaus has a great tool storage box that also has organizers to put all your bits into, and we modelers have a ton of bits that need organizing.
One of the great things about this particular hobby organizer is the small size, coming in at just: 10 x 6.8 x 10.9 inches. So, this will easily fit onto your hobby workspace and not take up much room.
There's 4 drawers to organize assorted bits, and the top opens up to put your hand tools into.
Honestly, if I didn't already have one of these, I'd buy this in a second.
Wall Control
OK, so this option from Wall Control is for the serious hobbyist.
What we have here is a metal pegboard. It comes with hangers and shelves. Being made of metal means it's going to far outlast the traditional pegboard, but it also means it's more expensive too. But, you get what you pay for, right?
This is a great setup if you have a nice, big, dedicated space where you do your hobby work, so it's a niche product.
If I had the room then I'd love something like this, which is why I'm sharing it – some of you may have the space for it.
Conclusion
So, there's the current list of various hobby tool organizers and storage methods.
Like I said, I'll keep this updated as I come across more worthwhile products.
On a related topic, I also have a collection of miniature display cabinets worth checking out. It's a great way to organize and show off those awesome models you work so hard on.
Also, as I mentioned at the top, I've also got a list of paint storage organizers as well, which of course goes great with the items above.
Oh, lets not forget the list of paint brush organizers if you're in the mindset of keeping a clean painting desk.
Lastly, on my hobby blog I have an article that covers the list of hobby supplies every hobbyist needs that might be worth a read. That article talks about all the tools of the trade, including some you probably never thought about.