Battle Foam has been around for a while and have been pretty dominant in the market of miniature cases and storage. It's for good reason too. They offer quality products and you can get exactly what you need.
There's no way to cover all the products Battle Foam carries. However, I did want to go over their more popular products and help you find a case that's right for you.
Disclosure: Some of the links below are affiliate links, meaning, at no additional cost to you, I will earn a commission if you click through and make a purchase. The commission earned helps maintain this site.
Battle Foam Cases
I'm going to list these from smallest to largest. You can find more of their bags for sale online and on their own site if I don't cover a bag you were curious about.
P.A.C.K. 352
First let's cover the size of the bag, which is 13.5 x 9.5 x 17 inches, so a pretty typical bag size by most standards. However, for Battle Foam this is a small bag.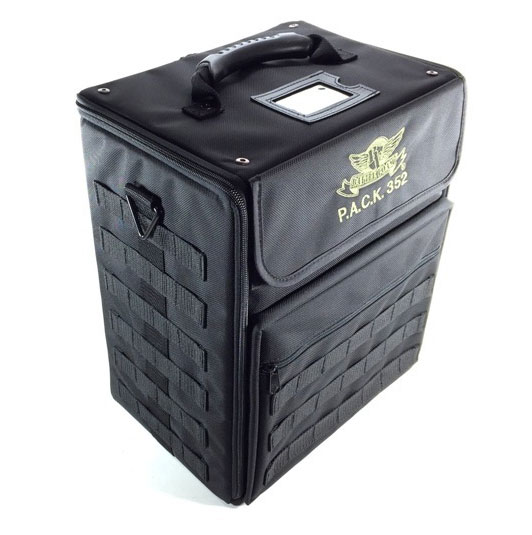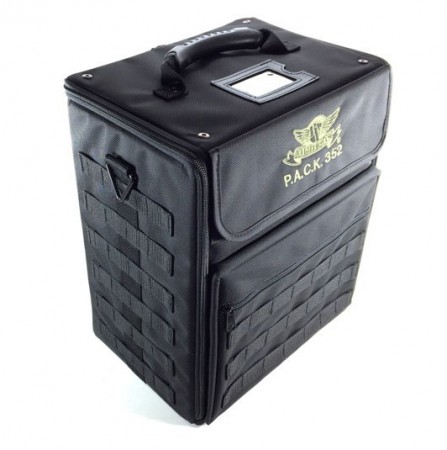 The smaller size of the bag (for Battle Foam) is because this is intended to be their skirmish game sized bag. If you play games like Blood Bowl, Infinity, Necromunda, etc., then the P.A.C.K. 352 was designed for you.
Now, the bag comes in various loadouts that you can check out. There's options for specific games, like Shadespire, Titanicus, Gaslands, etc.
There is also the option to just get the bag with a pluck foam tray loadout. That way you can make the P.A.C.K. 352 meet whatever you specific needs are.
If you go this route, then it comes with:
3 x 2 inch pluck foam trays
1 x 2.5 inch pluck foam tray
1 x 3.5 inch pluck foam tray
2 x Battle Foam small toppers (they go over the trays)
Speaking of, the trays themselves measure 11.5 x 7.75 inches.
Of course, the bag has two front pockets that you can use to store things like rulebooks, dice, etc.
The other great thing is the bag has a molle system. This is what Battle Foam calls its customization system.
So, you can buy add ons and accessories for the P.A.C.K. 352 and they stick to the bag on the outside. This gives you further customization which is nice.
Here's some info from Battle Foam on the bag itself.
The P.A.C.K. (Personal Army Combat Kit) 352 can fit 14.5 inches (368 mm) of Battle Foam Small (BFS) size foam trays (11.5W x 7.75L"). Its rugged, black Ballistic Nylon exterior protects a hard plastic interior built for strength and durability. This bag was designed for airport travel and meets all FAA regulations for carry on luggage. The P.A.C.K. 352 offers a molle system, which allows you to further customize this bag to fit your specific storage and transportation needs. Molle accessories offer storage solutions for tablets and other small books, dice and other gaming accessories as well as cell phones and other personal items. It also has two thin front pockets built into this bag that will hold papers and small/thin books.

Battle Foam
If you're wondering how much you can fit in the bag, the answer is 352 miniatures. The number designation on any bag indicates how much you can store in it, which makes sense to me.
Being the smallest bag listed here makes it the most affordable. Granted, you are paying for the bag and the foam trays, so the price tag might be higher than you expect. However, everything Battle Foam sells is high-quality and a worthwhile investment.
Magna Rack
Another alternative with the P.A.C.K. 352 is instead of doing foam trays you can go with a magnetic storage setup using Battle Foam's Magna Rack setup.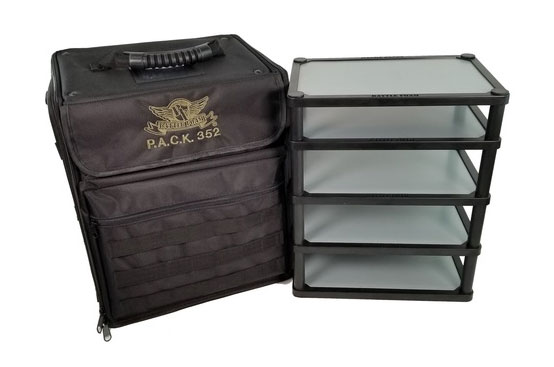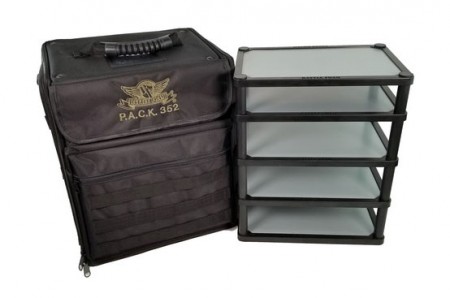 The Magna Rack system goes inside the P.A.C.K. 352 bag and it contains magnetic shelves. You then magnetize the bases of your miniatures and you're good to go.
This is admittedly a more expensive option than the foam trays, but the advantage is that you don't have to keep buying new foam trays. I'm a big fan of magnetic setups.
Video
Here's a nice video Battle Foam has done showing the case.
P.A.C.K. 432
Taking a step up is the P.A.C.K. 432.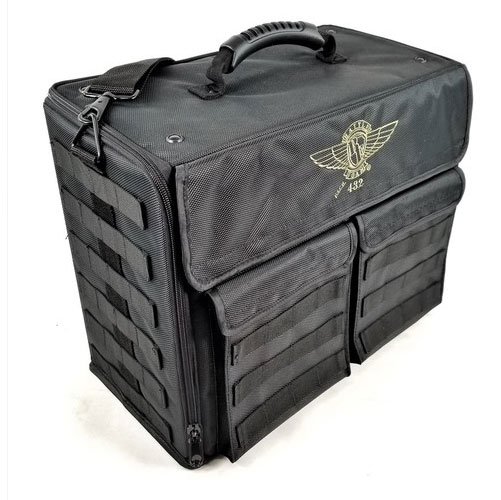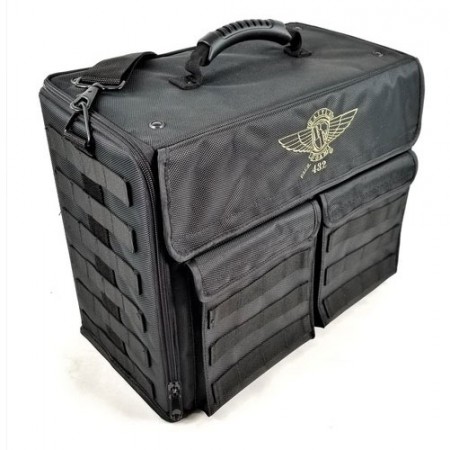 This bag isn't a big size increase over the 352. The measurements here are 17 x 9 x 15 inches. So, pretty similar to the 352 but this bag is more horizontal than vertical. It's also only marginally more expensive.
Again, the 432 in the name means it will hold 432 miniatures, so you are gaining storage.
If you top for the pluck foam tray loadout, then it comes with:
2 x 1.5 inch pluck foam trays
1 x 2 inch pluck foam tray
2 x 3 inch pluck foam trays
You can also get this bag in other configurations as well to accommodate nearly any game.
The P.A.C.K. 432 has a tough nylon exterior with a hard plastic interior, which will keep all your miniatures nice and safe.
Honestly, this is almost identical to the 352 so there's not a ton extra to add. However, the P.A.C.K. 432 does not have an Mana Rack option, so no magnetic storage setup for this one I'm afraid.
P.A.C.K. 720
Now for a bigger jump, the P.A.C.K. 720.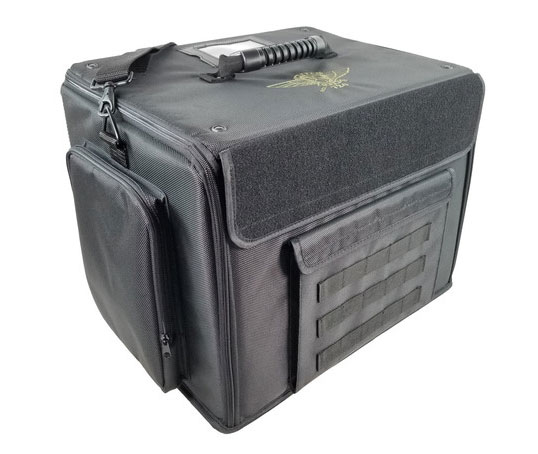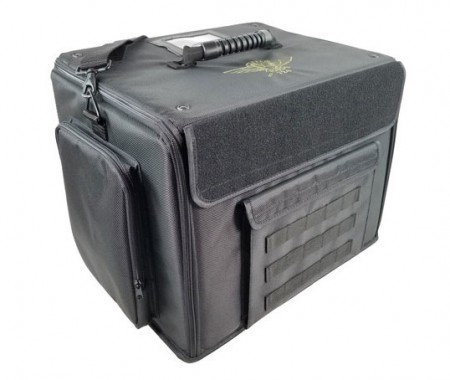 This Battle Foam bag measure 18 x 14 x 14 inches and the pluck foam tray load out comes with:
2 x 1.5 inch pluck foam trays
1 x 2 inch pluck foam tray
2 x 3 inch pluck foam trays
1 x Battle Foam large topper
The bag may not seem like a big jump in size but it really is. This bag is going to hold up to 720 miniatures. This means if you play a larger game like Warhammer 40K or Age of Sigmar then you'll have a bag that will carry everything you need, and likely with some room to spare.
As with most Battle Foam bags, the P.A.C.K. 720 also has the molle system for further customization. It has a velcro strips as well for any patches, badges, and pins you want to put on there.
The P.A.C.K. 720 also has a large pocket on both sides of the bag for storing your dice, measuring tape, rulebooks, etc.
Of course, being the biggest bag I've covered here means it's the most expensive. However, when you consider the storage of this bag then you realize the price increase isn't all that bag.
Magna Rack
As with the 352, you can get a Magna Rack setup for the P.A.C.K. 720 bag. Again, the Magna Rack system is for magnetizing your miniatures for storage.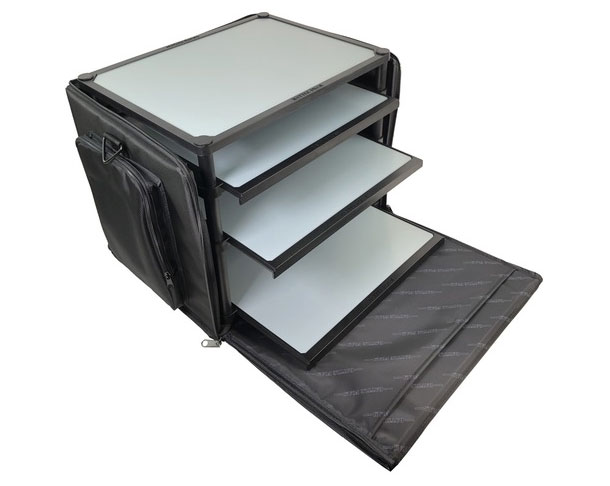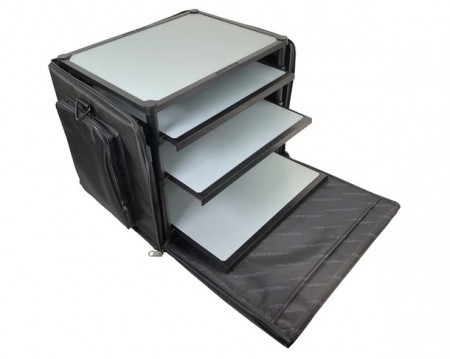 As with all their Magna Rack setups, it is a more expensive option than going over traditional foam. But, as I said above, the advantage is you won't have to keep buying foam trays for the bag so keep that in mind.
Going with Magna Racks is an investment, that's for sure.
Video
Here's Battle Foam showing off the 720 bag if you want to see it in action.
Breakdown
Here's a quick chart running over the breakdown of the 3 cases.
Conclusion
There you have it, the 3 most popular bags by Battle Foam. They're all great bags and it really comes down to what your needs are. The P.A.C.K. 352 is perfect for skirmish gamers where the 720 is awesome for larger scale wargamers. Then there's the 432 that sort of sits between them.
Battle Foam has never been cheap but you are buying quality products, make no mistake. Still, I know it can be a bit daunting for some. So, if you're in the market for something cheaper, a Battle Foam alternative, then I've got some information on that as well.
Also, if you like the idea of magnetic storage with the Magna Rack option, then check out my article that covers more magnetic storage cases.