The Blood Bowl storage you need is pretty minimal. At most, you'll probably have no more than 16 miniatures, some dice, and a few templates to carry around.
So, there's no need for a case that carries 400 miniatures or a foam tray that holds 50 models.
Below you'll find a list of storage options suitable for Blood Bowl based on size, and also many of them are extremely cheap.
Disclosure: Some of the links below are affiliate links, meaning, at no additional cost to you, I will earn a commission if you click through and make a purchase. The commission earned helps maintain this site.
Blood Bowl Storage Options
The list of storage options is alphabetical. I'm continually updating this as I find more, so if you have any suggestions that I've not covered, then I'd love to hear about it in the comments.
A-Case
The A-Case is a magnetic case that's a great size for a smaller game like Blood Bowl.
It features 4 trays for models, so you can store multiple teams in there.
It also has a front pocket where you can stash your rulebooks and such.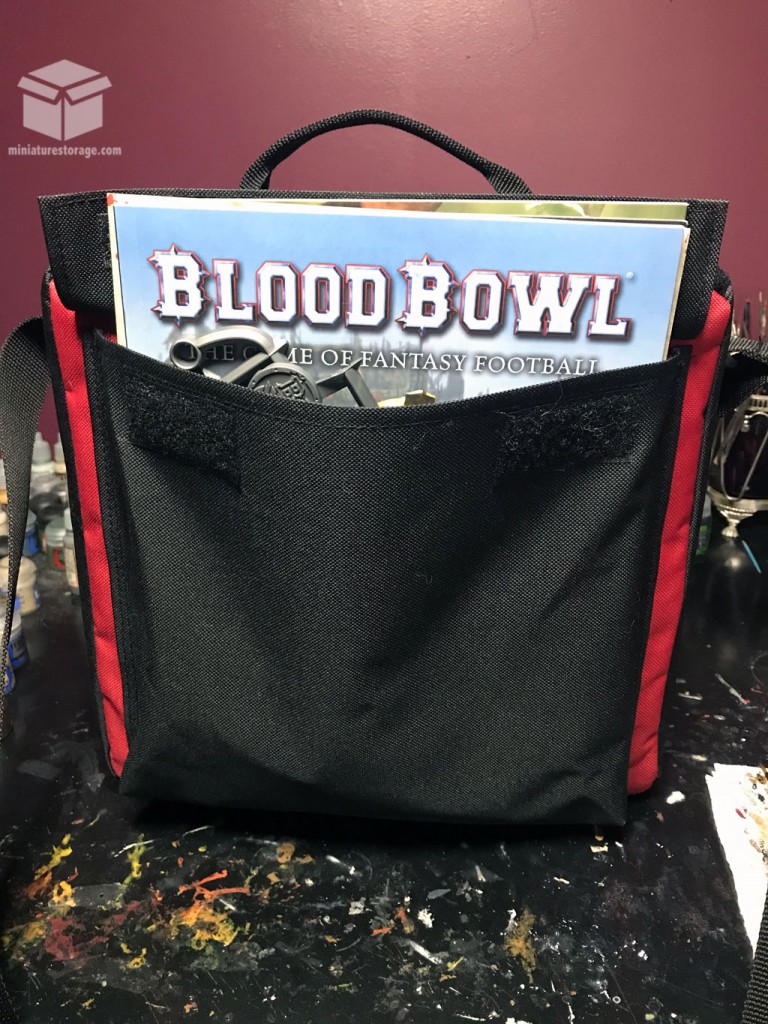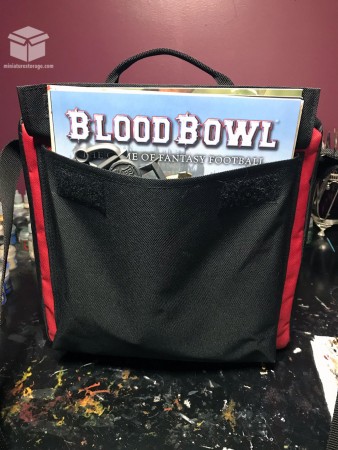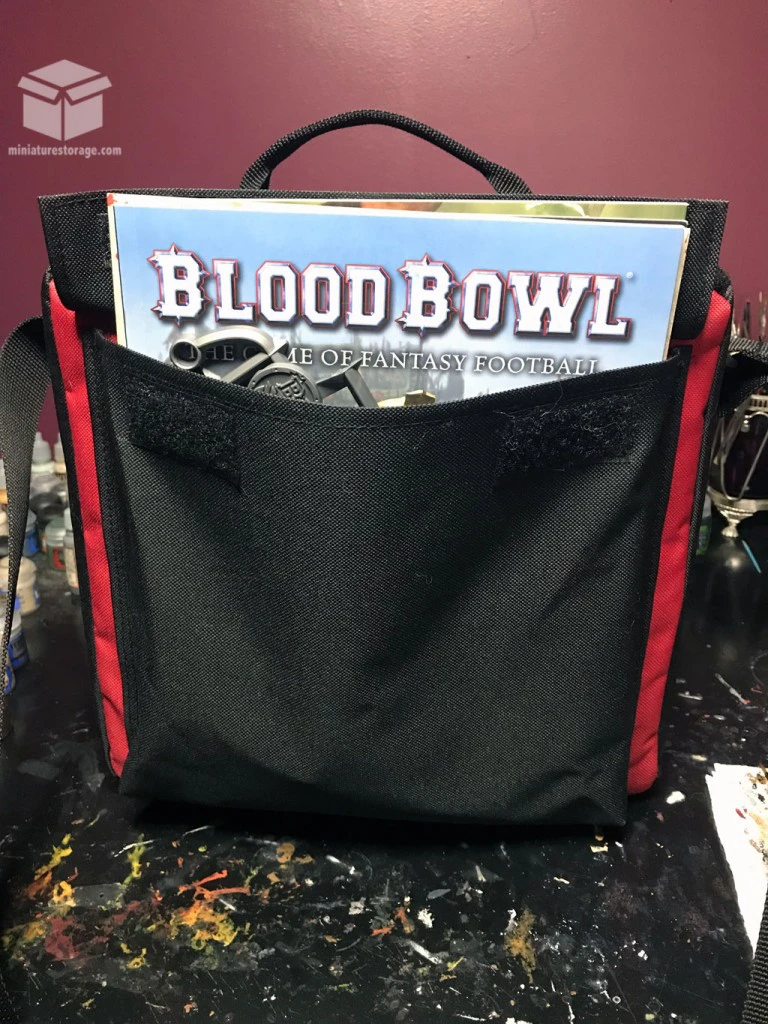 As you can see, I own this particular case and I love it. I even have a thorough review of the case as well.
So, this is an option that I definitely recommend. It's not going to be the cheapest option you see here, but if you're after a solid magnetic case in general then this is my suggestion.
Battle Foam
Battle Foam has some preconfigured trays to fit teams anywhere from 12 players up to 20 players.
Among those options is one that fits inside the original game box if you still have it, which has become a popular option lately.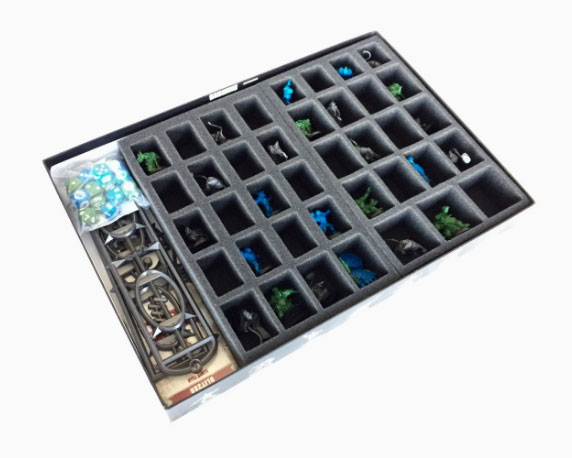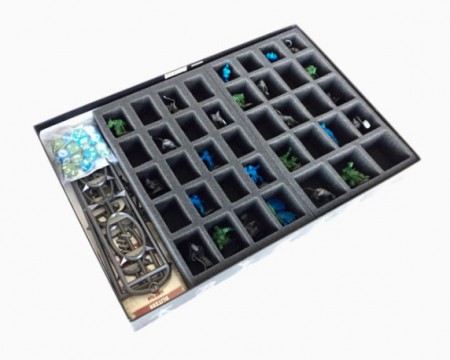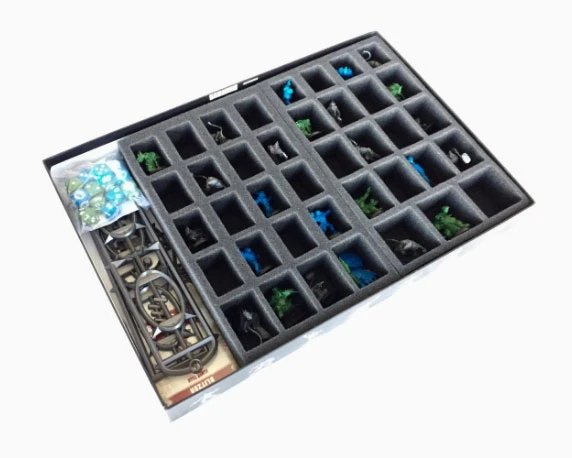 All in all, some pretty good choices from Battle Foam that are priced really well.
Of course, all these trays will fit inside any of the case they sell. So, if you're already rocking a Battle Foam case then you can't go wrong with these trays.
Plus, you know the quality is there as well.
Now, if you want to go for a more traditional bag, then check out the P.A.C.K 352 case. I've got an article that covers that in more depth.
Citadel
There's a lot of big options with Citadel. Even their smaller case, the Skirmish, is a lot more than most Blood Bowl players need.
They have yet to get around to a Blood Bowl specific case, but my fingers are crossed they eventually do. Yet, they do have some smaller compact cases for other Games Workshop games that will fit the needs of BB pretty easily.
There is the Warhammer 40,000 case that has the Aquila on it, so not very Blood Bowl'ish, but it's a great size case and extremely affordable as well.
Also, there's a similar case for Blackstone Fortress. It's also a small compact case but features the Blackstone Fortress lettering on the front.
The great thing about both of those cases is they feature the channel foam trays. It's a sawtooth design that fits snugly around your miniatures and you can easily fit a Blood Bowl team into either of those two choices.
Feldherr
Feldherr has some game specific options available.
The smallest option they have is the MINI that holds 16 miniatures. Perfect for one team.
They also offer the MINI Plus case for Blood Bowl that holds 44 miniatures. So, you can safely store a few teams in there.
The MINI Plus is a smaller compact case that snugly fits the foam trays.
Also, on their site you will find quite a few choices as well. One of my favorites is the magnetic box they have. It's small, looks cool, and does its job well.
The only issue ordering off their site is if you're not in Europe. Shipping to the U.S. isn't cheap. You can check Amazon, as I linked for the MINI Plus, but sadly that's the only Blood Bowl offering I saw on there.
There are a lot of other options though. I've got a review of Feldherr cases if you want to check out more of their choices.
KR Multicase
KR Multicase also has some Blood Bowl specific trays available.
Most of the trays that KR offers will fit inside a standard Sabol bag, but of course they'll also fit inside the cases that they also sell.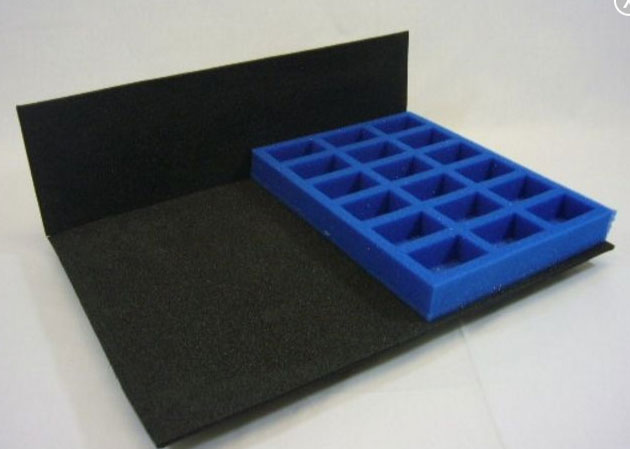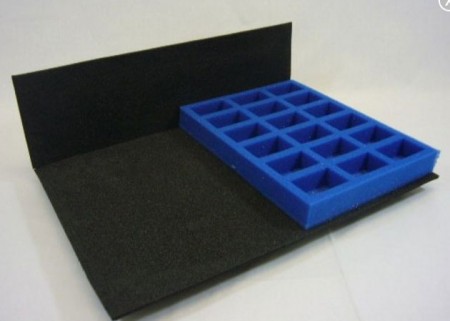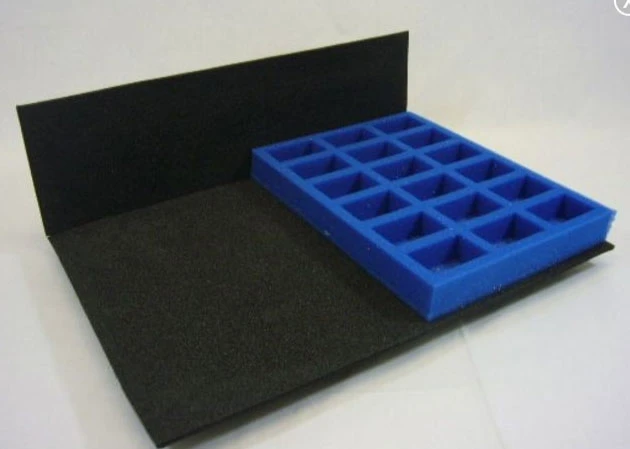 Among those trays you will also find the ability to select pre cut trays for specific teams, which is pretty damn nice.
I don't know much about KR Multicase, but I know every time I'm looking for storage options they come up. Their stuff is always priced well and often cheaper than other companies. They seem worth a shot.
Pluck Foam Trays
Pluck foam trays are always a great option. You can setup the trays as you need them and they tend to be affordable choices.
There's a few too many to cover entirely in this article, but I do have a article covering pluck foam trays. You should definitely be able to find a suitable option there.
Reaper Miniatures
Another case option if you don't mind what's on the case.
So, Reaper Miniatures has a great little case. It's probably the most affordable case option in this list.
The case features an eggshell style foam, so you should be good getting any miniatures in there.
The size of the case is 10.8 x 3 x 9 inches. So, you should have no problems getting an entire team in there safely.
If you don't mind the Reaper logo on the front then I think this is a great buy.
My Top 3 Blood Bowl Cases
Of the options I've given, these are my top 3 cases I recommend.
A small, lightweight case that will hold your entire team at a very affordable price. Plus, it just looks great.
Use the box the game came in and you can easily store 3 teams in there along with all the templates and dice.
I'm a fan of magnetic cases and this little one holds a ton of models. This is more expensive than the other options but it's amazing quality.
Bonus
Another option that's available is to make your own foam trays for Blood Bowl. It's takes a little work, but it's a cheap way to go and you can make the trays exactly as you need them.
Conclusion
This list is by no means conclusive, but hopefully you've found a few options you weren't aware of.
If you have a preferred storage option that I didn't cover then please let me know in the comments. I'd love to grow this list to include as many choices as possible.