It wasn't until I had begun this site that I first became aware of Feldherr cases. In doing research for miniature cases I came across them and really liked what I saw.
The only downside I could find, for me being in the US, is that they're out of Germany and shipping can be expensive and slow. That's no fault of Feldherr's though, just the nature of European companies in regards to the US.
Feldherr Cases
Feldherr reminds me a lot of Battle Foam in the sense that they have a storage solution for virtually everything. What sets them apart from other companies is their low price. Not only is their price low but their quality is good.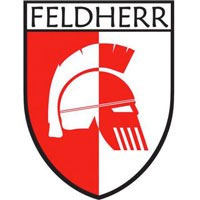 So, you're getting more than you pay for when compared to other miniature case companies out there. Dollar for dollar they are really impressive.
Feldherr is definitely worth a look and I'll go over their common cases below.
Cheap Entry Level Cases
If you're a on a budget, then you can still find some Feldherr cases to put your models into.
Disclosure: Some of the links below are affiliate links, meaning, at no additional cost to you, I will earn a commission if you click through and make a purchase. The commission earned helps maintain this site.
Storage Box
One of the cheapest options you can find are the Storage Boxes that Feldherr offers. These are cardboard boxes with foam trays. These are not fancy, and are as durable as can be expected, but they'll get you something safe to store your models in.
Now, I don't mean cheap in terms of quality, or even cost compared to some other options below, but cheap in terms of storage to dollar spent.
For example, this Storage Box offers the ability to carry 180 miniatures. That's quite a bit of storage for a very low price.
Magnetic Box
A slight upgrade in this area is the magnetic boxes that they offer. The magnetic boxes are more visually appealing and are made of a more dense cardboard.
Here's what Feldherr says about the magnetic boxes:
The Magnetic Box is the ideal solution for storage and transport due to its low weight and the flat, rectangular shape. It consists of coated solid cardboard in modern Feldherr design. The light green box, in which the foam mats are placed, is firmly glued to the casing. This also serves as a lid. Two integrated magnets on the flap and front allow a seamless and easy closing, so that nothing gets lost during transport.

Feldherr
MINI Minus
Now, you can also find something a bit more traditional in this category as well, the MINI Minus cases.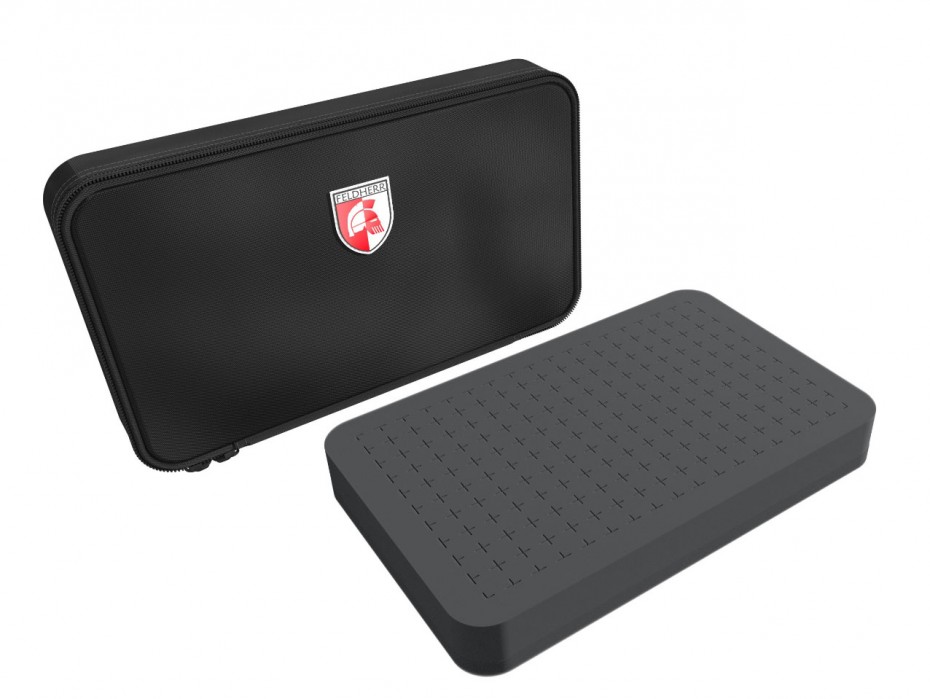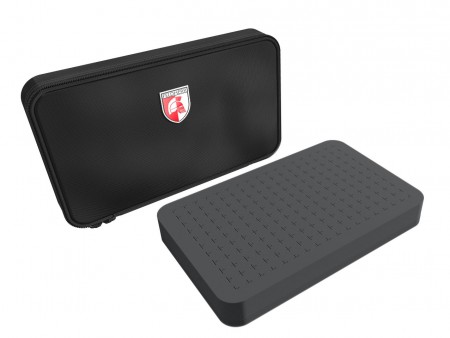 The MINI Minus cases are small soft cases that carry a single foam tray. This is great if you're just starting in wargaming, or you play a smaller skirmish game where you don't need a lot of storage.
These are a great option worth checking out.
Small, Affordable Cases
There's a lot of options I could go over but I'll stick to the best sellers to make life easier. To that end, we move into the other MINI cases that Feldherr offers.
MINI
The MINI cases are small soft cases, like the MINI Minus, but with a bit more storage. The MINI cases will hold two foam trays, or one larger one, compared to the MINI Minus.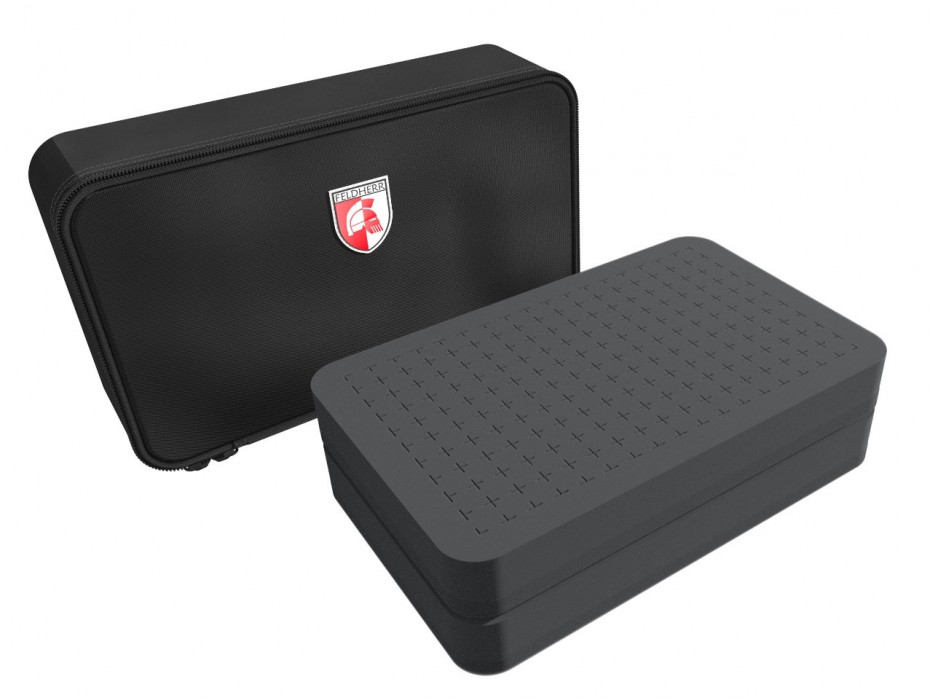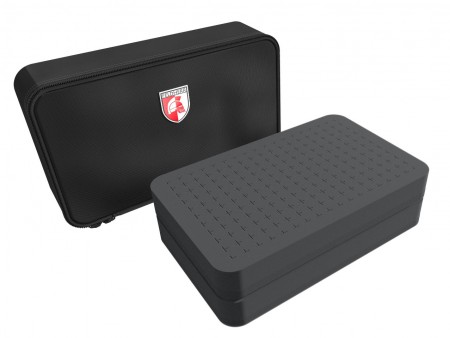 Like all Feldherr cases, you can find these with foam setups for specific games, as well as more generic setups like this one for 32 miniatures.
MINI Plus
You can also find the MINI Plus and it's what you think, a step up from the MINI 🙂
The MINI Plus will hold around 4 trays (depending on the size), allowing you to transport a fair amount of models at a very reasonable price. This one, for examples, holds 64 miniatures with 4 trays, and it's priced very reasonably.
As with the MINI Minus, the MINI and MINI Plus are great for smaller games.
MEDIUM 135
Now we start stepping up into Feldherr case sizes that are more suitable for larger wargames, like Age of Sigmar, or Warhammer 40K.
One of the best sellers for Feldherr is their MEDIUM case line. In fact, the MEDIUM 135 case is such a great case at an affordable price, that I have it listed in my top 3 cheap cases.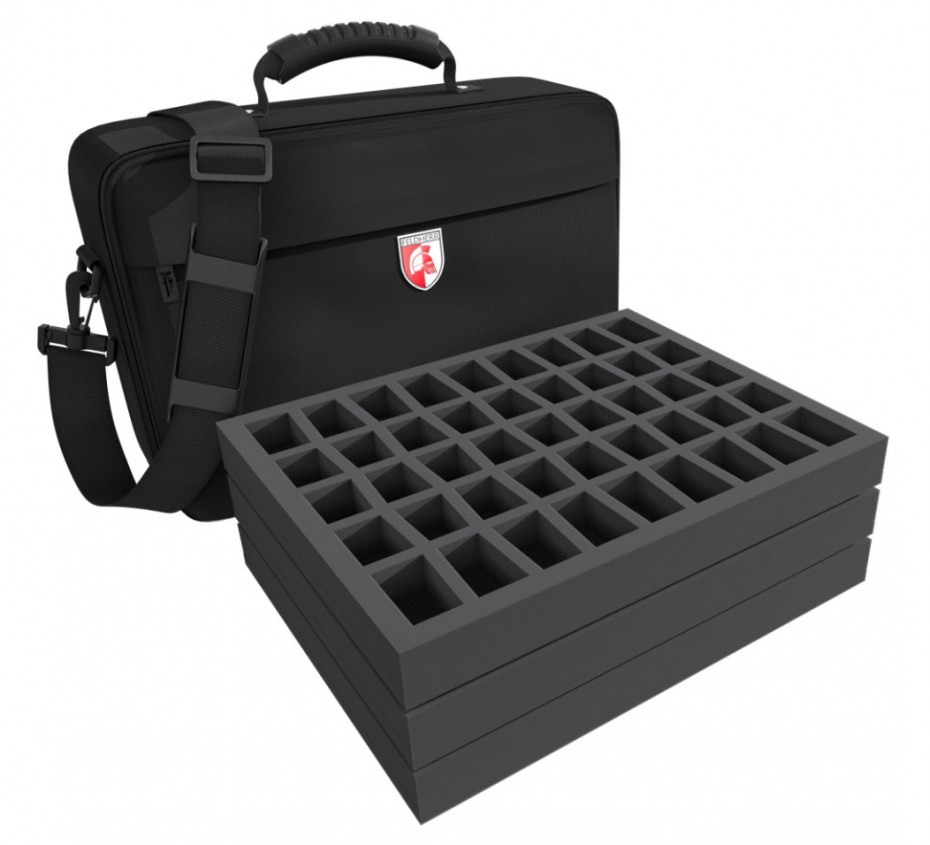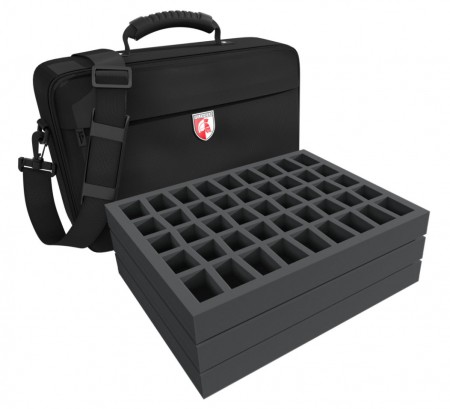 The MEDIUM cases have a nice shoulder strap for easy carrying. The shoulder strap can be removed as well if you prefer to use the handle instead.
Here's some more info from Feldherr:
The Feldherr MEDIUM bag is made of particularly robust fabric and ensures that its contents are optimally preserved from external influences. Padded side panels and a reinforced base additionally ensure that the contents are optimally protected from external influences even when transported by car or train. In addition to the large main compartment, the bag has a small zipped pocket at the front. Here you can store sheets, books and other accessories.

Feldherr
What the 135 in the name means it that it can carry up to 135 miniatures. So, it's a good sized case for when you're building up that Warhammer 40K army, or a full army if you're infantry heavy.
The most impressive thing, as noted above, is the ability to have a case capable of carrying 135 miniatures at such an awesome price. Again, it's why it's in my top 3 cheap cases worth buying.
You'll also find a lot of options available for the MEDIUM.
MAXI
The MAXI line of cases are for when you need to move an entire army but don't want to spend a ton of money.
Some info:
The Feldherr Maxi figure case holds large armies of up to 225 infantry figures on the 28 mm scale. By using other combinations of trays it is possible to carry heavy tanks, war machines, heroes and other large models along with infantry or standard models. The figure case is made from extremely durable material. There is a pocket on the front of the case for books and accessories while a shoulder strap, an ergonomic handle and a lightweight design mean that the case is comfortable to carry.

Feldherr
So, 225 miniatures is no joke. This case should handle most armies for larger wargames pretty easily, and as with all the Feldherr cases, the price is very reasonable also.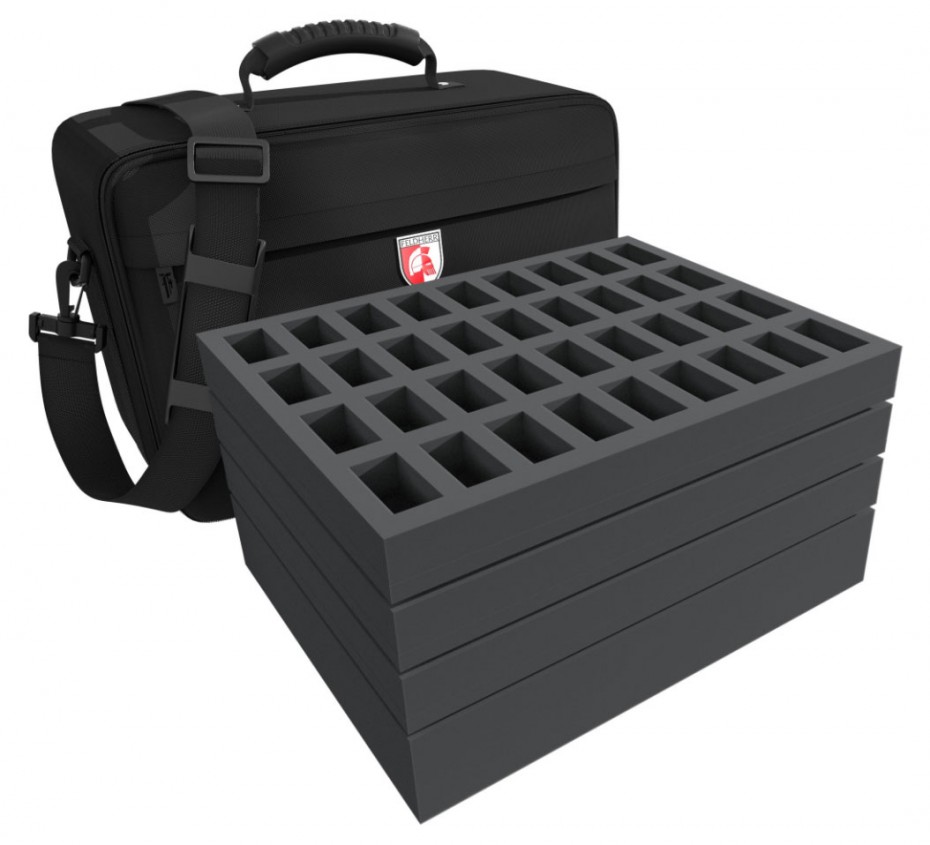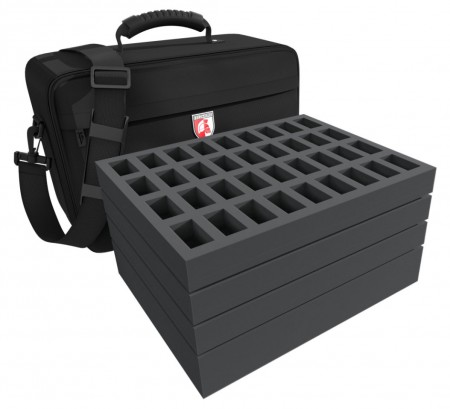 That case shown above is the MAXI for 108 infantry with tank storage. You can get the case setup with various configurations as well.
On their site you can find no less than 68 different configurations. It's pretty insane.
The MAXI offers the shoulder strap like the MEDIUM, as well as the carry handle if you choose to remove the shoulder strap. All-in-all, it's just a bigger MEDIUM case.
Other Options
There's a few other options for Feldherr cases.
Backpack
If you prefer a backpack setup then Feldherr has one of those also. Actually, they have a lot of those.
This functional backpack had a large main body and a front section allowing you to carry additional books, dices, paper, pencils … The bag's fully-adjustable shoulder straps allow you to carry your army in comfort. The front compartment is perfect for rulebooks and all of your templates (including the large Apocalypse templates).

The second generation Hobbypack offers a lighter and more ergonomically advanced rucksack. The cushioning and multi-part PVC reinforcements are integrated directly into the shell and sewn in place to prevent slipping. A zip opens the main compartment on three sides, which allows you to comfortably insert large items. Practical pockets on the inside and an additional compartment on the front provide plenty of space for accessories. The Hobbypack II is a versatile all-rounder for school, sport, work and leisure.

Feldherr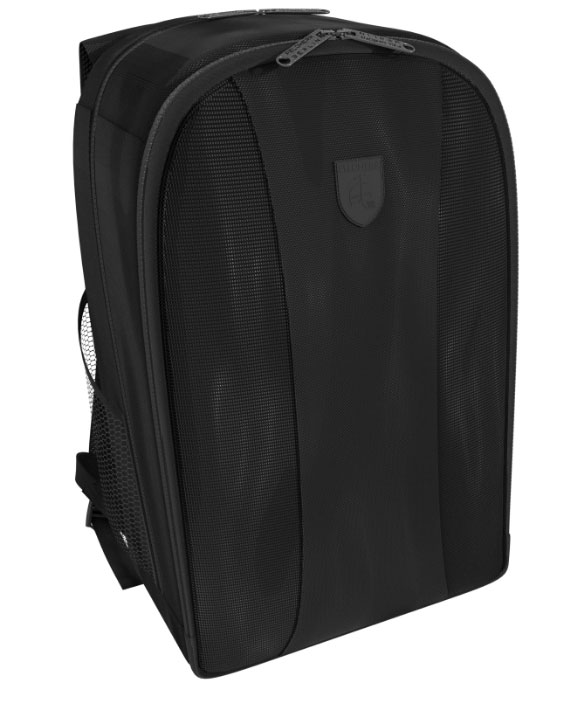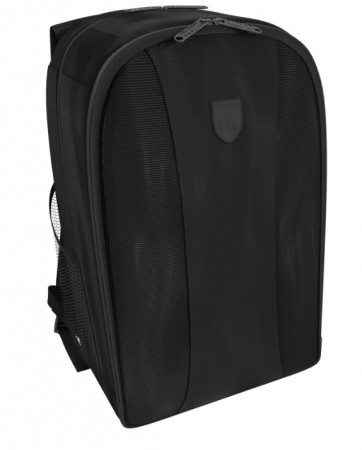 As you can see, it's no joke of a backpack – it's legit. They have a Backpack configuration for 192 miniatures, so it's larger than the MEDIUM 135 in terms of storage and just shy of the MAXI.
Now, the Backpack style is unsurprisingly more expensive than any of the previously mentioned Feldherr cases but you are gaining quite a bit more flexibility with it too.
Transporter
For Feldherr cases you can also find their Transporter, which is a large lightweight case capable of carrying the earlier mentioned storage boxes, as well as a ton of foam trays.
Euro Box
There is also a case called the Euro Box, which is a hard plastic container that you can transport you foam trays in safely. It has a range of sizes and is great for some serious miniature safety.
My Recommendations for Feldherr Cases
Here's a quick chart showing my recommendations for Feldherr cases. All the cases are great, but if I had to choose just 3 then they'd be these ones.
Great case for smaller games like D&D or Warhammer Underworlds at a very affordable price.
Awesome all-around case that's suitable for larger wargames, looks great, easy to carry, and isn't expensive.
Ideal case for going big, like if you play Warhammer 40K or Age of Sigmar, and you want a case that's not expensive.
Conclusion
Hopefully I've given you an idea of the range of Feldherr cases you can find. Honestly, I've only just scratched the surface too. You can also find just foam trays, as well as storage options specific to games as well. I think I hit the high points though.
Again, the prices are great with Feldherr and they're a great alternative to Battle Foam. If you're in the US, then you can find a lot of Feldherr's offerings on Amazon; that's how I get mine and save on shipping.
So, if you're in the market for a good case that won't break the bank, then definitely give Feldherr a chance. They're a great company with some great products.