Whether you have one gang or ten, you're going to need a carrying case, or some sort of storage, for Necromunda.
The great thing with a small skirmish game like Necromunda is that you don't need a big elaborate storage setup. There's no need to drop serious cash to keep your models safe. You can get yourself a small carrying case at an affordable price and be all set.
To that end, I've collected a list of Necromunda carry case options for you to check out. These are all on the smaller side of things and thus cheap to get.
Disclosure: Some of the links below are affiliate links, meaning, at no additional cost to you, I will earn a commission if you click through and make a purchase. The commission earned helps maintain this site.
Necromunda Case Ideas
The list is alphabetical for ease of searching.
Battle Foam
Battle Foam has a great solution for those who like to keep their game box.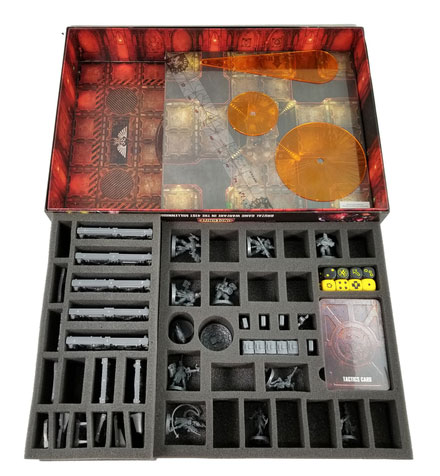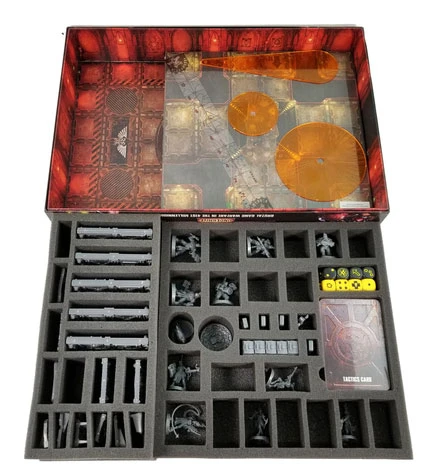 This foam setup fits right inside the starter set. So, you slide the foam trays into the box and you're good to go!
Here's what they had to say about it:
The Necromunda game foam kit will conveniently store and organize the miniatures, cards, templates, game tokens and dice. It also allows for additional miniatures and fits perfectly inside the original game box for easy transport and storage. The rules can be safely stored at the bottom of the box under the foam kit.

Battle Foam
This is an incredibly cheap option and a great choice for someone just jumping into the game.
That aside, there are a lot of carrying case and foam tray options as well. Like, way too many to even list, so I'll leave you with that cool box option and let you check out the tons of other options that Battle Foam has for Necromunda.
Now, game specific choices aside, Battle Foam also has the P.A.C.K. 352, which is a great sized bag for a smaller skirmish game like this. I've got an article chatting about it a bit more worth checking out.
Chessex
If you're after small and cheap then Chessex really has a great option for you.
This small Chessex box will hold up to 14 miniatures for you, so a good size for Necromunda. This is also the cheapest option on the list. So, if you're running a tight budget then definitely consider this one.
While this case isn't fancy or cool looking, it is cheap, it's a good size, and it's made by a good company.
Also, Chessex does offer a larger version that will hold 80 miniatures and it's still very cheaply priced.
Feldherr
Feldherr has quite a few options, but let's start off with the MINI 32.
MINI
The case is 7.1 x 2.4 x 14.8 inches. It's nice, small, and easy to carry around.
The case comes with 2 layers of foam trays that will hold up to 32 miniatures, hence the MINI 32 name 😉
The case itself is soft and has a zipper to close. It's a great looking case and Feldherr make great products.
I would consider this the best deal listed in terms of quality and price.
Other Options
Now, much like Battle Foam, Feldherr also has quite a few other options available for Necromunda. You can find small magnetic boxes, simple trays, and also a game box storage setup as well.
You should have no problem finding your perfect solution with these folks. In fact, I wrote an article that reviews Feldherr cases if you want to see more of their options.
Games Workshop (Citadel)
There's two options that Games Workshop offers that I like.
Carry Case
Good old Games Workshop has a nice small case that's perfect for Necromunda.
The case itself measures 7.5 x 2.5 x 10.5 inches in size. So, it's pretty small and easy to carry around, but still gives you room for a few Necromunda gangs.,
The case has one layer of channel foam, so you can keep your miniatures safe and snug in there. The channel foam is the standard these days with Citadel cases and people love it.
Aesthetically, the case looks very cool. A very sleek and simple black design with a bold white aquilla. So, this looks perfectly suited for Necromunda despite being designed for Warhammer 40K.
Honestly, it's just a great small case to have if you play any other smaller skirmish games too, like Kill Team or even Blood Bowl.
This is a pretty modestly priced case that's worth considering.
Skirmish Case
Now, if you want to be able to store a lot more gangs then you could step up to the Skirmish case.
The Skirmish case is more expensive, but it's also a much higher quality case that holds more miniatures.
This would be perfect for the gamer who is collecting all the Necromunda gangs, which is most anyone reading this I think 🙂
I do also have a review of the Skirmish case if you need help deciding on this particular one.
Reaper Miniatures
Reaper Miniatures has a small case that is well suited to Necromunda.
While the case was designed for D&D, it works for any smaller scale game easily.
The case is 10.5 x 9.5 x 3 inches in size and has a hard exterior, which is great if you tend to drop things. Lord knows I've dropped my cases a few times…
Inside there's a single layer of egg shell foam which should let you easily store a gang or two pretty easily.
The great thing about this carrying case is the price. This is the second cheapest option on the list if money is a concern.
My Top 3 Picks
Of those listed, here's my top 3 case picks.
Additional Storage Options
While these cases are all on the smaller side, if you are interested in a wider listing then I do have a more thorough list of carrying cases for you to check out. That will give you some larger options, as well as some simple foam tray options.
Now, a great option is also magnetic cases. A magnetic setup is perfect for a smaller scale game like Necromunda. You only have a handful of models to deal with, so you don't need anything overly large, and you only need to magnetize a few miniatures.
This is the route I've gone with my Warhammer Underworlds warbands and my Blood Bowl teams. I absolutely love using a magnetic setup.
Conclusion
While not a conclusive list (there's always a few that are forgotten), this list should give you some great Necromunda carrying case ideas.
If you have a suggestion for a storage idea that I didn't cover then please let me know in the comments. I'd love to grow this list as much as I can!