Sabol Designs has been in the gaming storage game for many years. In fact, they were founded in 2002 and run out of Georgia, US. Anyone who has been gaming for a while is familiar with Sabol Designs.
While other miniature storage companies have risen, like Battle Foam, Sabol Designs remains a contender in the industry. They have always offered high quality bags at a great price. Few companies can match the price of what Sabol offers.
Sabol Designs Storage Options
Below I've included the various storage options that Sabol offers from foam to miniature bags.
Disclosure: Some of the links below are affiliate links, meaning, at no additional cost to you, I will earn a commission if you click through and make a purchase. The commission earned helps maintain this site.
Pluck Trays
One of the more popular offerings by Sabol is their pluck trays. Pluck trays are great when you need something a bit custom but without the overhead of a setup like Battle Foam offers.
If you're unfamiliar, pluck trays are foam trays with pre-cut squares. You determine the configuration you need and then pull the squares out you don't need, in turn creating a spot to place your miniature. These are also referred to as pluck and pull trays for obvious reasons.
Anyway, Sabol has been creating pluck trays since the beginning, and it's how I discovered them back in 2006.
There's a range of sizes depending on your needs. All trays measure 7.5 x 13 inches in size and fit into all of their miniature bags they sell. The thickness varies depending on need, such as:
They have more thicknesses available on their site as well.
Miniature Storage Bags
The other thing that Sabol is known for is their storage bags/cases. As noted above, all bags are capable of carrying their trays.
All of the bags that Sabol Designs sells are sold empty.
ArmyTransport Case
The ArmyTransport case is one of the signature bags from Sabol Designs. This is the original.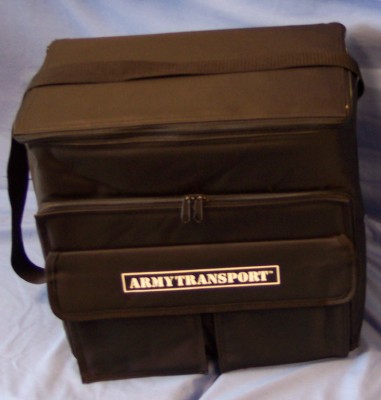 The bag has one large zipper pocket on the front, along with two front pouches as well. These work awesome to store rulebooks and gaming accessories. There's also a pouch on the inside top that will fit thin books as well.
I have always been able to get all my required books in the bag for Warhammer 40K, Blood Bowl, or Shadespire. The front two pockets is often where I put my Shadespire deck. There's quite a bit of storage, though it may not look like it.
The case measures: 14 inches tall x 14 inches wide x 9 inches thick x 13 inches deep.
It's a relatively small bag but it fits quite a few trays.
I used this bag exclusively for a long time to store around 1,500pts for Warhammer 40K. I'd still use it now for that except bigger models, like my Knight, take up a lot of space. The Knight fits in there, it just leaves me little room for other trays is all.
The ArmyTransport is also one of the most affordable storage options that Sabol offers.
ArmyTransport Mark III Case
The Mark III is identical to the original ArmyTransport in size (14 inches tall x 14 inches wide x 9 inches thick x 13 inches deep).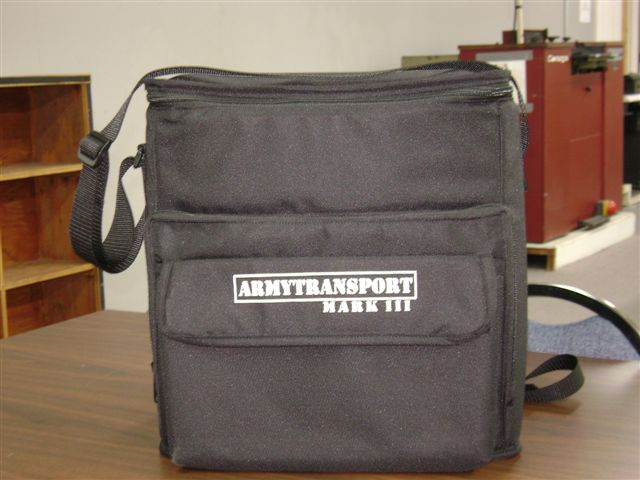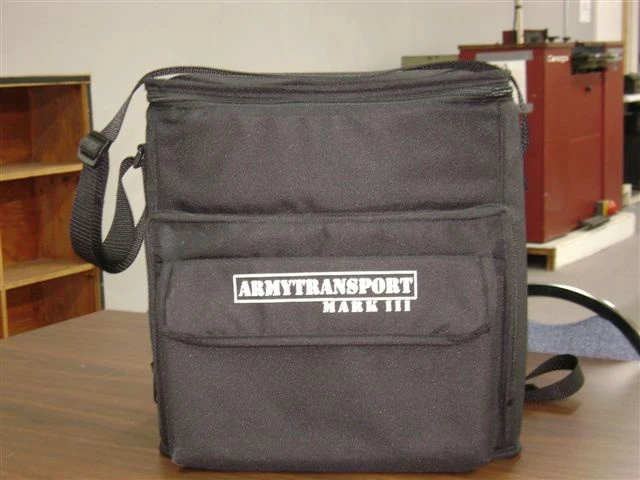 The big difference with the Mark III case is the bag material (cloth) and it comes with shoulder straps so you can use it as a backpack.
The price on the Mark III is the same as the ArmyTransport as well, so for the added convenience of having shoulder straps, it's well worth getting.
ArmyTransport Platoon Case
The smallest offering from Sabol, the Platoon case. It features the same front zipper and pouch setup that the ArmyTransport has.
Note: It appears they may no longer be making this bag.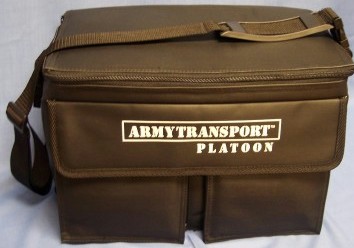 This bag measures 10 inches tall x 14 inches wide x 9 inches thick x 8 inches deep. So, it's not a whole lot smaller than the ArmyTransport but it is cheaper to buy.
The size of this bag makes it great for smaller skirmish games, like Shadespire, or lower point level games of something like Warhammer 40K.
ArmyTransport Motor Pool Case
For the amount of storage the Motor Pool case offers, the price is extremely reasonable.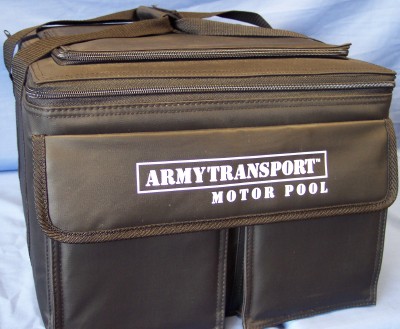 The Motor Pool measures 8 inches tall x 15 inches in length x 13 inches wide.
The foam trays for the Motor Pool are stored side by side, so a lot of storage without being overly tall. You could easily fit a larger army in this one.
There's also a lot of storage room for rulebooks and gaming accessories with the large zipper pocket, the mesh pocket, and the front pockets.
ArmyTransport Armored Company Case
This thing is a monster. The size of the case is 14 x 17 x 16 inches. Yep, 16 inches tall and fits two trays side by side, so that's 32 inches of tray height.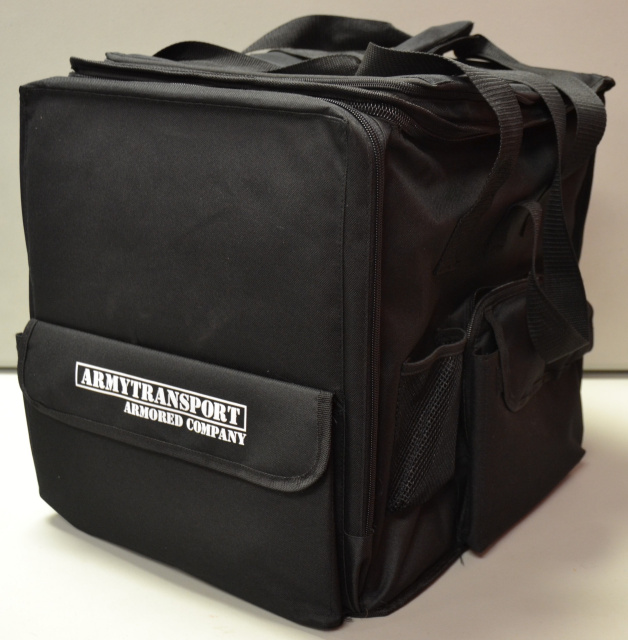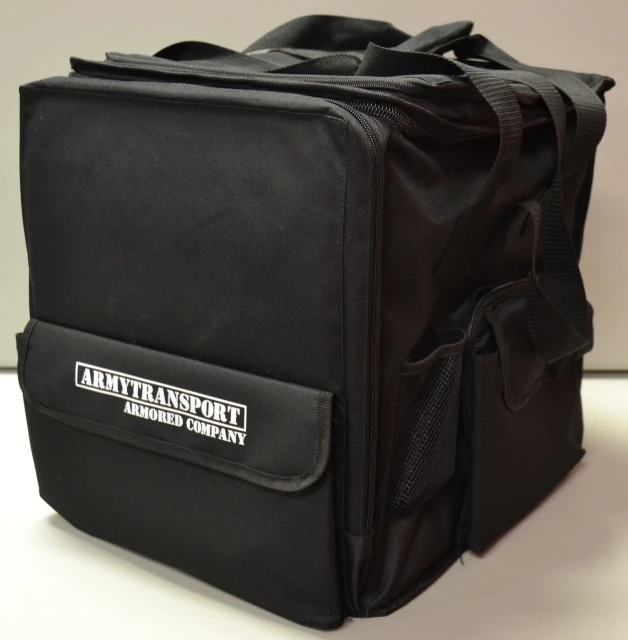 The Armored Company case also has two large book pockets, a large mesh pocket, four accessory pockets.
This bag is perfect for carrying around an entire army and everything you need with it, IE: rulebooks, dice, etc.
The bag price is very reasonable considering how much space it has. A great bag choice for any big gamer.
ArmyTransport Division Case
Last up, we have the Division case.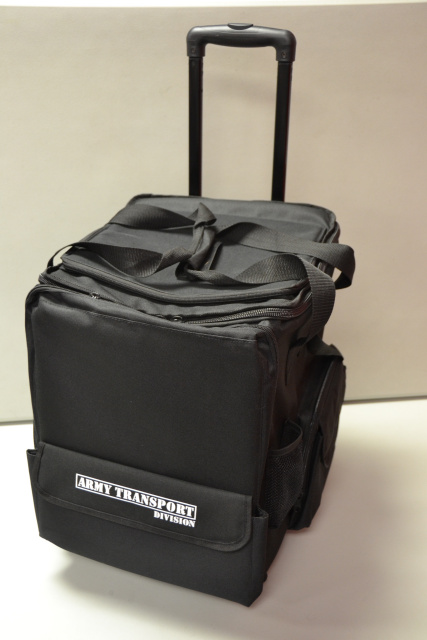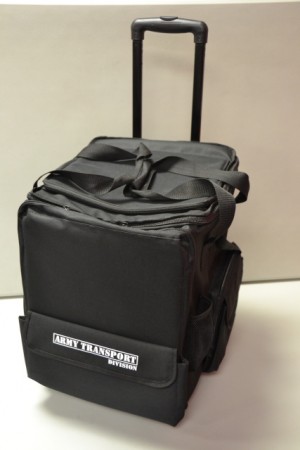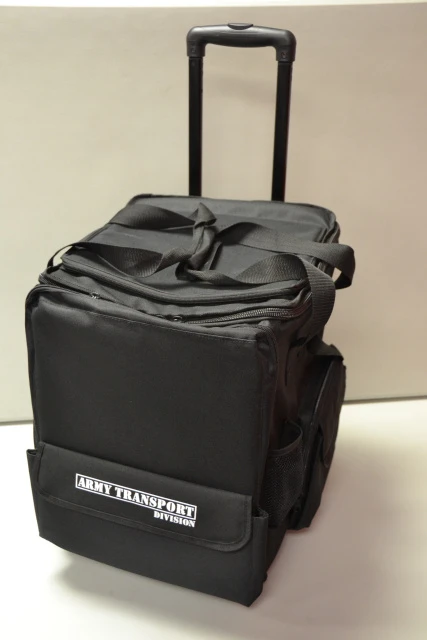 The Division is a favorite bag for many gamers because it features wheels and a handle to pull the bag around with.
The Division features lots of storage with pockets for books, dice, and other gaming accessories. Everything you need will fit in this beast.
The size of the bag is 15.5 inches deep and 14 x 17 x 16 inches tall. Basically, this is the Armored Company bag with a few slight changes, like the pull handle + wheels.
Another great bag at a reasonable price.
Conclusion
Sabol Design bags are a great for any gamer needing storage. I bought my first ArmyTransport in 2006 and have had the bag ever since. They hold up very well to abuse. I know, I abuse the hell out of mine.
The cases Sabol offers are also some of the most reasonably priced bags you'll find out there. You would be hard pressed for find another bag with the same features for less.
I can't recommend these folks enough.