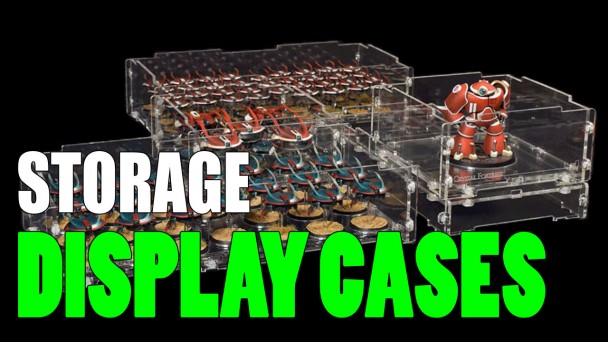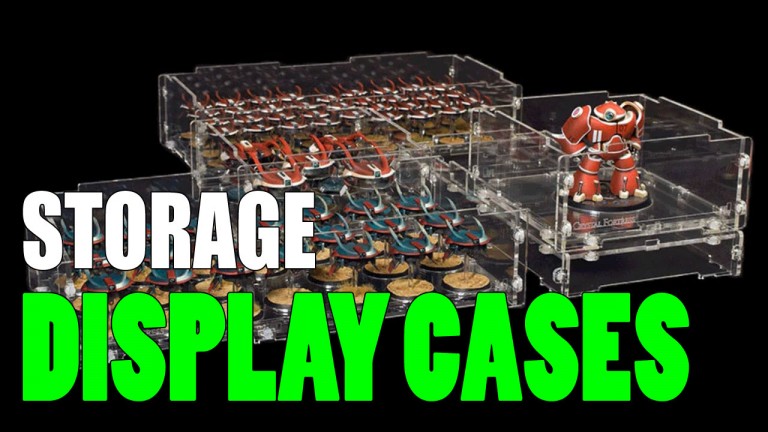 Sometimes you have such a large collection of models that you find yourself in need of a miniatures display cabinet. Maybe, instead, you just like painting miniatures and having somewhere cool to show them off.
Either way, I thought I'd put together a list of miniatures display cabinets, cases, shelves, etc. to check out for those in the market. I'm finding myself in the position of needing one, so why not share my research?
Miniatures Display Cabinet List
As usual, this list will be in alphabetical order based on manufacturer. Also, if I missed one that you'd recommend, then please let me know in the comments. I'd love to expand this list as much as possible.
Disclosure: Some of the links below are affiliate links, meaning, at no additional cost to you, I will earn a commission if you click through and make a purchase. The commission earned helps maintain this site.
Chessex
OK, so this one is more for funsies.
Chessex has a cool single miniature case that you can buy. Actually, they have a few options for single cases.
This particular one I'm talking about, which is very well reviewed on Amazon, is 1.5in x 1.5in x 2.75 inches in size. So, it's great for people who game in a 28mm scale or smaller.
The price on this is super cheap. I may snag a few of these actually.
Admittedly, a single miniature case like this is aimed more for someone who paints for show and needs to protect their model, but I found it while searching around and thought it was too cool not to share.
Coaster Home Furnishings
Now, Coaster Home Furnishings has a handful of sizes when it comes to their display cabinets. So, let's start with the least expensive.
3-Shelf Glass Curio
Here is a 3-shelf glass curio cabinet that's pretty sexy if you ask me.
This smaller one measures 16.8 x 14.2 x 33.5 inches in size. Certainly on the smaller size of things.
Admittedly, while being small, this is not an inexpensive miniatures display cabinet. You can get a larger miniatures display cabinet cheaper from Ikea (down below). However, this is a well reviewed case, it looks great, and seems like it will hold up for a good long while.
If you got a little money to spend, why not check it out?
4-Shelf & 5-Shelf
From the 3-shelf, you can go up to a 4-shelf and 5-shelf.
All of these cabinets from Coaster Home Furnishings are similar, so I won't break the 4 & 5 shelf down individually.
Basically, each cabinet gets progressively larger. The 4-shelf case is the same size as the 3-shelf but taller. The 5-shelf case is 8 inches wider than both of those, and a hair taller as well.
Regardless, these look very similar, are made the same way, and it's a matter of cost and space. Both the 4 & 5-shelf cabinets are very well reviewed as well.
Crystal Fortress
The offerings from Crystal Fortress are a bit different, but in a good way. I've covered them previously in my magnetic miniature cases article, but they also fit here as well.
What Crystal Fortress has are acrylic miniatures display cases that are suited for gaming. Meaning, these aren't necessarily for just displaying your miniatures, but also for transporting them.
The other very cool feature with the Crystal Fortress setup it makes for a modular display case, so you can create exactly what you need and add on to it as needed.
Here's a video they did showing how their system works.
Honestly, there's a lot to be said about these cases and trays, more than I'll write about here.
Definitely check them out. Their system is a bit expensive, but it's also rather unique as well.
Ikea
Ikea is a great store…if you're single. It's not so great on relationships though!
You either know what I'm talking about or you don't. We'll leave it at that 😉
Anyway, Ikea has two good options for miniatures display cabinets, especially if you're after a Warhammer/Age of Sigmar display case.
Of course, the cases are suited for anything, just that they're big, so great if you've got quite the collection, hence the game reference.
Detolf
Anyway, the really popular one that many, many collectors and wargamers use is the Detolf.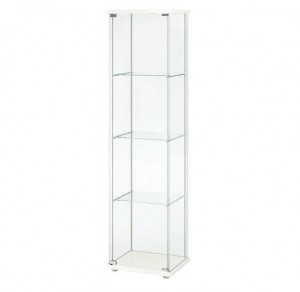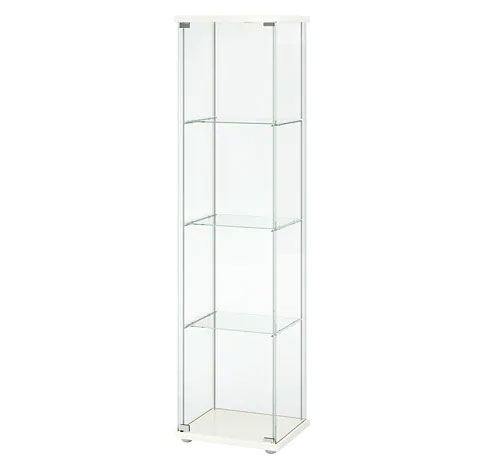 This is a glass cabinet, so it just looks great, and it measures 16-3/4 x 14-3/8 x 64-1/8 inches, so a little over 5 ft. tall.
The case features 3 shelves, plus the bottom, giving you 4 places to show off your miniatures.
This is just a classic looking display case at a great price and really well reviewed.
You seriously can't go wrong with this one.
If you do decide on a Detolf, or you have one already, then check out the A-Space. It gives you extra shelving for your Detolf.
FÄRGSTARK
Like the Detolf, this is another glass display cabinet.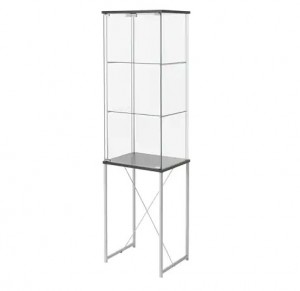 Other than a size difference (18-1/2 x 14-5/8 x 67-3/8 inches), the big difference is the style of the case. The style of the FÄRGSTARK is suited for something you might put in your living room or dining room.
Basically, it looks a bit less like a display cabinet and more like a piece of furniture.
So, you're going to fit less in this miniatures display cabinet, and actually pay a bit more for that aesthetic, but there's nothing wrong with that if that's what you need.
Ikee Design
Ikee Design, not to be confused with Ikea, has a great looking acrylic display box at a pretty reasonable price.
Let's start with the dimensions: 10-7/8 x 2-7/8 x 2-1/2 inches in size. This means it's small enough to sit on your hobby desk if you wanted.
Of course, you can mount this on the wall too, which is probably safer than on your hobby desk.
This is a 4-tier case, so despite it's smaller size, you can still get a fair bit in there. Still, it's more suited for smaller collections, like those from skirmish games, or just to show off a few choice pieces.
Lastly, this also has great reviews on Amazon as well. Between the good reviews, and the affordable cost, this looks like a great miniature storage box.
A case well worth checking out.
Conclusion
I hope you found something useful in that list.
Honestly, I was a bit surprised at how hard it was to find miniatures display cabinets and cases that were worth looking at. I did find some others that I didn't list, but they weren't well reviewed, and I'd rather present the ones that are worth the investment.
Still, I'll keep an eye out and update this list as I keep searching for a miniatures display cabinet for myself and let you all know what I find.